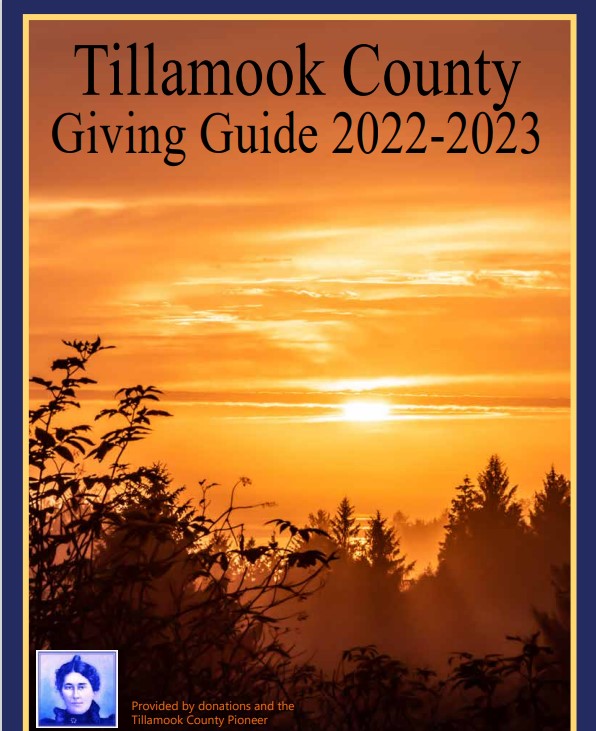 Story, Photos & Video by Don Backman
"Pull, Augie!" Loud voices shouted to one of the two athletes trying to grip the muddy rope and avoid being drug into the waist-deep mud. Loud cheers and cries of support filled the quiet Kilchis Valley. The 135 participants of the Ultimook Running Camp gathered around the famous giant mud-pit on the cross country running course on Hydrangea Ranch. A staff of fifteen, made up of ten counselors and five staff people charged with running the event, coordinated the highly popular Tug-of-War where teams tried to drag each other into the mud.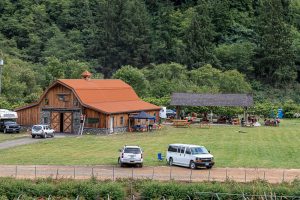 Anyone familiar with the Hydrangea Ranch is aware of the beautiful grounds Pat Zweifel, owner and operator of Hydrangea Ranch has created. Fans of high school sports may be aware of the Ultimook Cross Country meet that is run every fall at Hydrangea Ranch. One of the top meets in the nation, it routinely draws a field of thousands, and brings in many participants from out of state. What many might not be aware of is that Zweifel operates some of the best summer running camps around, too. "I feel that I have a lot more to give," Pat explains, talking about his motivation in starting running camps. A highly accomplished runner, Pat set records and won a state championship at Tillamook High School before going on to run at California Polytechnic State University. "There's a lot more that I can teach." That drive to teach has been evident in the highly successful high school cross-country program he has built at Tillamook High.
The Ultimook Running Camp was back on for the Summer of 2021 after having been canceled along with many other events last year. This year the camp featured two separate camps of one week each. Approximately 135 campers participated in each week of the camp, and participants are limited to 12 – 18 years of age. Zweifel reports that the camp has grown every year since its start eight years ago. Many participants came from out of state, with one mentioning that she came from Arizona as she walked by splattered with mud.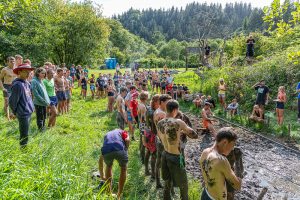 The Participant's letter states, "Our passion is to give you one of the best running experiences of your life. We'll take you on some of the most beautiful runs on the Oregon Coast and challenge you to become a better runner and a better leader." The itinerary shows that they do just that. Many participants are from inland, and the beach and coast are a new and exciting experience for them. They get plenty of opportunities to enjoy the area.
"I believe leadership and teamwork are the keys to great team success," Zweifel says on his website, a sentiment he emphasized while we watched the mud pit from a not-quite safe distance. Mud splattered his side and shirt. "The primary focus of the Ultimook Running Camp is to build better leaders and facilitate great teamwork." The camp features the Sasquatch Games, a series of experiences to challenge participants, teach them how to work as a team, and teach them how to lead. "The Sasquatch Games is the ultimate team-building exercise and the highlight of the camp," he adds. The list of activities is very long, a few of which have participants running to the top of the nearby mountains, running at night in glow-stick relays, doing a team-building log carry relay, a chocolate milk mile, and a tug-of-war where competing sides try to drag each other into a deep mud pit.
The camp features a staff of fifteen, not counting Pat. Ten are counselors, and five are staff. Many of the fifteen are past athletes Zweifel has coached. The Twins Ranch does the catering. Participant safety is taken seriously and they follow COVID protocols closely. The Ultimook Running Camp website outlines an extensive plan which is based on it being all outside where transmission has been very low. In addition, all participants must be vaccinated or have a negative test within three days before the camp. Participants camped in the greenhouses which are open on the sides and ends for ventilation. Single tents were available if needed.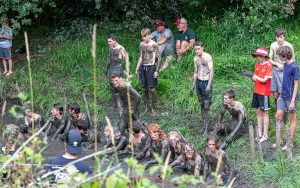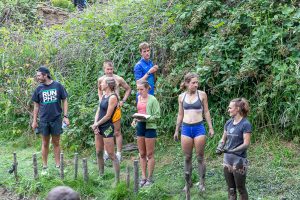 The runners surrounded the mud pit, and a whole row that kept growing sat in mud above their waist, cheering each other. One grabbed a big double handful of mud and plopped it on his friend's head. The recipient of the mud looked up with a big grin, laughed, and proceeded to smear it all down his head and chest. Mud was everywhere. "See those clean staff members over there?" Pat asked, gesturing over at several staff members across the pit. "When they disappear it's time to leave. The kids drag the staff in after they are done." As we watched, a team of girls suddenly lost footing and were drug into the mud pit face first by the other team. Cheers and laughter erupted. They emerged muddy and with big grins.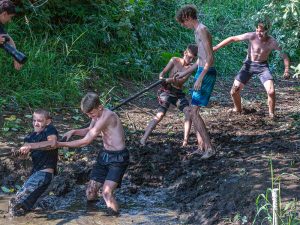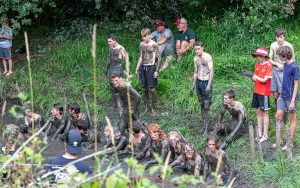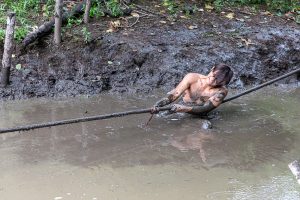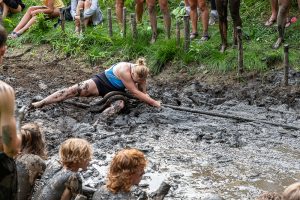 For more tug-of-war action, see Don's video below.
A one-week camp costs attendees $495. There is a group rate of $435 for teams of five or more, and early registration saves 10%. "There's no limit," Zweifel said. We grow each year."
Zweifel aims to tire the runners out by working them hard and working hard at their having fun. After all, that is the whole point of a running camp – have fun training hard, and get ready for the season. Judging from the excited shouting and the sheer number of smiling faces, it looks like he has been successful. Zweifel pointed out that many attendees come back in the following years.
When asked if he ever expected the program to become this popular, Zweifel responded in a quiet and understated, yet firm way. "Yes," he said. "I planned to be successful. I didn't plan to fail." Words of wisdom from a champion.
Suddenly, the clean staff members disappeared, and so did I.
Next up is the Ultimook Race to be held on September 4th at the Hydrangea Ranch.