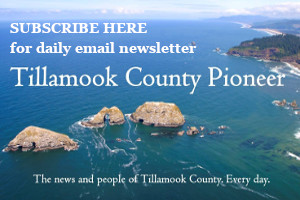 WARRENTON, Ore. — Coast Guard personnel rescued two men aboard a 40-foot sailing vessel before it took on water off the Oregon coast near Tillamook Head, Thursday June 8th.
A 47-foot Motor Life Boat crew, from Coast Guard Station Tillamook Bay in Garibaldi, transferred both mariners, one who reportedly was suffering from hypothermia, an injured shoulder and possibly broken ribs, to emergency medical personnel waiting at the station.
Station watchstanders received word at 10:26 p.m., Wednesday, from the crew of the sailing vessel El Corazon that they had a loss of propulsion about 15 miles off Cannon Beach and were making their way on one engine to Coos Bay. The captain was reportedly extremely tired and sea sick and the first mate reportedly did not feel experienced enough to operate the vessel.
Coast Guard members were on the phone with the first mate when the other engine died, rendering the vessel fully disabled. The station boat crew launched in response and sent a crew member aboard the sailing vessel to assist with preparing the vessel to be towed.
While en route to the Tillamook Bar, waves were breaking over the bow of the sailing vessel. Initially the onboard bilge pumps were able to keep up, but by 4:48 a.m. the bilges were full of water. Coast Guard personnel deemed the vessel no longer safe and to abandon ship. The station boat crew cut the tow line and safely recovered all three people from the sailing vessel.
Sector watchstanders issued a safety marine information broadcast to alert mariners of the adrift vessel. An MH-60 Jayhawk helicopter crew from sector reported at 12:24 p.m. sighting the partially sunken vessel a mile off Cannon Beach and headed toward shore.
Weather on scene was 11 to 17-MPH winds, with 23-MPH gusts and low visibility.