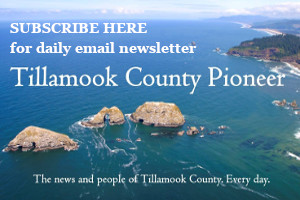 The Air Museum will be free for Veterans-on-Veterans Day. Fat Head BBQ will have a discount for Veterans. The flyover will be around 12:30PM.
– Veterans Ride FREE on The Wave on November 11
In observation of Veterans Day on November 11, the Tillamook County Transportation District will be offering free fare for Veterans on WAVE routes 1, 2A, 2B, 3, and 4. Veterans are invited to ride as many bus services as they need, at no charge, all day long.
"Each year the District looks forward to serving Veteran's with free public transportation to thank them for their service," says Doug Pilant, General Manager for the District.
For more information about WAVE bus schedules or services, please visit www.TillamookBus.com or call 503-815-8283.
– The Fern Cafe – Thursday, November 11, we would like to honor all veterans and offer a free meal to those who have served to thank them for their service! Come see us from 7:30am-8pm. Happy Veterans Day!
– Werners Beef & Brew is providing a free meal for Veterans with military ID.
– At the Tillamook Creamery, this November, we are honoring those who have bravely served our country in the line of duty. All month long, U.S. Veterans will receive a 20% discount at the Creamery. We thank you for your service and hope to see you soon for a scoop or two. https://www.tillamook.com/visit-us
– The Tillamook Elks Lodge invites all Veterans and active-duty military and their families to the Tillamook Lodge for a dinner in your honor on SATURDAY NOV. 13th at 5 pm. Dinner is included for veteran and spouse; extra plates will available for $7.00. Menu will be chicken fried steak, mashed potatoes, green beans and dessert. Join the Elks Lodge to celebrate our Veterans with a ceremony to follow dinner. Tillamook Elks Lodge, 1907 3rd St., Tillamook
"Hopefully, next year we will have the normal Veterans Day Celebration at the Tillamook Air Museum," said Tillamook County Veteran Services Officer Nicholas Torres.
Regional and national restaurants are giving free meals to veterans on Veterans Day. Go to the link below to see a list:
https://www.usatoday.com/story/money/food/2021/11/09/veterans-day-free-meals-deals-discounts/