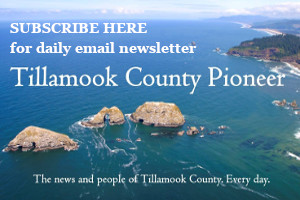 Join the Friends of Netarts Bay for a free, virtual learning experience – Aug. 1, 2020 at 10 am. See registration information below.
What does it take to thrive as a plant along Netarts Bay? How does the salty, muddy habitat impact the plant kingdom that calls it home?
The Friends of Netarts Bay WEBS will be answering these questions and exploring what grows along the salt marshes in a virtual tour on August 1. This free tour will take participants along the southern end of Netarts Bay – without ever having to leave your home.
"We will be learning more about the plants that live in this unique habitat and the importance of this environment from the forest to the water's edge," said Chrissy Smith, the director of the Friends of Netarts Bay WEBS. "We will explore what it takes to survive in such a salty environment."
Chrissy said that the annual Salt Marsh Tour is usually a popular in-person event for WEBS, which they have offered in partnership with Oregon State Parks for the last several years. However, WEBS has canceled all in-person programs for 2020. Although this is unfortunate news, they are keeping the fun going just with a virtual spin.
"We want people to still be able to enjoy the Netarts Bay area, still partake in our educational programs, and still experience what the bay has to offer without running the risk of exposing anyone or compromising their safety," Chrissy said. "We have been able to adapt a number of our programs to a virtual format for the remainder of the year so that people can still participate and feel connected. "
WEBS board member, Jim Young, will be leading the virtual Salt Marsh Tour on Aug. 1. Jim is a retired scientist and professional photographer who has been investigating the plants and the changes in Netarts Bay salt marshes for years. During the tour, Jim will be covering the importance of this environment from the forest to the water's edge and exploring the succession of vegetation from the bay to the dunes.
This event is part of the Explore Nature series of hikes, walks, paddles and outdoor adventures. Explore Nature events are hosted by a consortium of volunteer community and non-profit organizations, and are meaningful nature-based experiences highlight the unique beauty of Tillamook County and the work being done to preserve and conserve the area's natural resources and natural resource-based economy.
To learn more or register for Netarts Bay Virtual Salt Marsh Tour, visit www.netartsbaywebs.eventbrite.com and be sure to follow the Friends of Netarts Bay WEBS and the Explore Nature Series on Facebook and Instagram.
Questions: Contact Director@NetartsBayWEBS.org or call 541-231-8041.
Register: www.explorenaturetillamookcoast.com