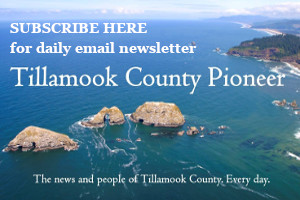 February 8, 2018. Tillamook, Oregon.
Visit Tillamook Coast, the tourism marketing and destination management organization for Tillamook County, announced today that $107,600 in tourism marketing and promotions grants have been awarded to 18 organizations and businesses for the 2017-2018 fiscal year.
Non-profit organizations and for-profit businesses are eligible to apply for projects related to tourism marketing and promotion, such as events, websites, brochures, rack cards, advertising, maps, mobile apps and social media campaigns.
This is the third fiscal year that grant funds have been made available, for total award funding of $307,600. Funding comes from the portion of the transient lodging tax managed by Visit Tillamook Coast.
"It has always been our goal to get the TLT funds into the community to help tourism-related organizations and businesses," said Nan Devlin, tourism director for Visit Tillamook Coast, and interim director for the Economic Development Council. "It helps build capacity, improve services, grow businesses and build revenues. When the organizations and businesses are more successful, we are more successful."
Grant applications are thoroughly reviewed, scored and ranked by the Tourism Promotion Advisory Committee, then submitted to the Economic Development Council of Tillamook County for approval of funding.
Applicants receiving tourism grant funds in the current fiscal year are International Police Museum, Tillamook Chamber of Commerce, Friends of Netarts Bay/WEBS, Food Roots, Tillamook Estuaries Partnership, North County Recreation District, Friends of Cape Falcon Marine Reserve, Garibaldi Cultural Heritage Initiative, Tillamook Coast History Alliance, Netarts Surf Inn, Art Accelerated, Tillamook Fairgrounds, Bay City Arts Center, Community Arts Project, CK Running, North Fork 53, Tillamook Association for the Performing Arts, and Tillamook Air Museum.
For more information on grants, call Nan Devlin, director, or Amy Blackburn, grants administrator, at 503 842-2672.