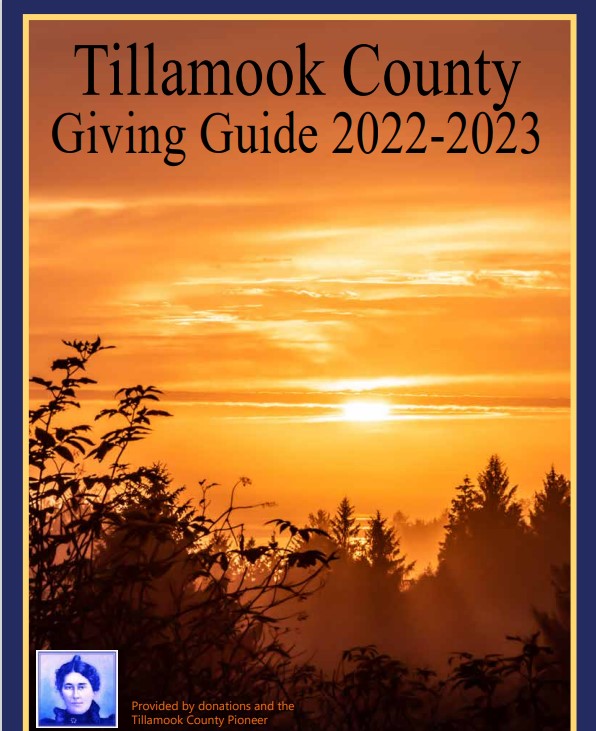 By Nan Devlin, Executive Director, Tillamook Coast Visitors Association
Before we get into the tough stuff, I'll start this quarterly update with good news, and there is lots to share. Here are a few highlights:
Visit Tillamook Coast was awarded a $65,000 grant from Business Oregon's Rural Opportunity Initiative program, which is funded by the Oregon Lottery Commission. This grant will help us continue work on establishing a food hub/delivery system and north coast food brand marketing. This is our second grant from Business Oregon on these projects. We will continue working with Port of Garibaldi, Food Roots, Col-Pac, RDI and local producers. If you'd like to read about this work, Oregon Business magazine May issue will feature this story, From Food Trail to Food Resiliency. In addition, Col-Pac applied for a supporting grant from USDA; and Jared Gardener of Nehalem River Ranch and Kristen Penner, a commercial crabber, applied for a Rockefeller grant, and their application has been moved into the second round of the funding process.
We were also awarded a $20,000 grant from Travel Oregon, funded by the Wine Country License Plate proceeds, which go to culinary/agritourism projects. This grant will help us develop three new videos for the North Coast Food Trail. This year, Seaside joined the trail and Astoria will join in 2021. Our food businesses are going to need strong marketing efforts to help them succeed, and this grant will help us help them.
Earlier in April, the PBS program "Tastemakers" did an episode on Jacobsen Salt and The Schooner. We couldn't be prouder! Watch here. This is the second PBS program to feature the Tillamook Coast. Last year, The Original Fare spent several days here, too.
Other media news: MIT Technology Review did a story on Tillamook County emergency readiness featuring EVCNB. The writer is a former Portlander now living in New York, and after talking at length with her, she is interested in a tourism and food resiliency story as well. Oregon Business magazine did a story on aquaculture and featured Whiskey Creek Shellfish Hatchery. Locally, we are sponsoring the county commissioners' three-times-a-week community meetings on KTIL (using non-TLT funds).
While in-person training is not happening now, we have been funding online training. The online version of Guest Service Gold is a good alternative; 28 hospitality employees from Tillamook Creamery, Werner's and La-Tea-Da Tearoom took the course in the last month. This brings Guest Service Gold trainings to 68 people since mid-January. If your team is interested in online Guest Service Gold, please let us know.
In addition, we trained 32 people in grant writing and 12 people as Certified Interpretive Guides. in February.
The #tillamooktakeout campaign has been a big success for restaurants throughout the county doing take-out orders. Thanks to Tillamook Chamber for all the work they are doing to get local support for our restaurants, which are community gathering places for locals, but depend on visitor spending to thrive. Justin Aufdermauer, chamber director, will have an economic impact report for us soon. We are thrilled to fund this effort.
We will present our budget request to the county commissioners and county budget committee on April 30. This year, we are looking at making headway on wayfinding signage installation and planning. Our new three-year strategic plan on destination management is driving our budget request. While the strategic plan was developed late in 2019, before the COVID-19 pandemic, the plan set us up for strong communication and messaging that is relevant now and later. Thank you to Amy Blackburn for her budget planning and financial expertise that helps us do what we need.
Big numbers news: 2019 Dean Runyan economic impact report on visitor spending was released last week, an important benchmark for the tourism industry. Here are Tillamook County's statistics, and we had a great year:
Visitor spending: $249.4 million – an increase of $7.7 million over 2018
Employees: 2,350 – an increase of 7.5% over 2018
As a comparison with our coastal county neighbors:
Lincoln County: Visitor spending: $644.2 million; Employees: 6,650
Clatsop County: Visitor spending: $601.3 million; Employees: 6,830
Of course, the sad news underlying the good news is that a majority of employees have been laid off. And the 2020 report will look much different.
And that brings us to the tough stuff:
Lodging is closed; restaurants are closed (some are doing takeout); museums and art centers are closed; most retail is closed unless they have an online channel; boat launches are closed; state and county parks are closed; beach access is closed. However, decisions from the state and local jurisdictions are under development, and leaders are looking at easing restrictions in a phased manner. What that will look like for our businesses as they safeguard the health of their employees and community, and provide a safe experience for visitors is of utmost importance – and will be everchanging.
How we communicate to visitors who want to travel here is also an issue of safeguarding the community and our businesses. We need to set expectations, provide consistent messaging throughout the county, and remind visitors of social distancing, wearing masks, etc. We will be distributing posters and pavement/window clings throughout the county for safe distancing: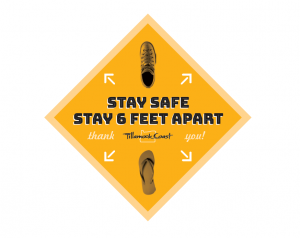 We put together a team of communication professionals throughout the county to help share implement the "Reopen, Respect, Recover" plan: Dan Haag in north county, Sayde Walker for Rockaway Beach, Laura Schmidt for Garibaldi, Chelsea Yarnell for central county, Tara Blair for south county, Julie Hurliman (VTC staff) for local communications, and Nan Devlin for regional and local media, working with Travel Oregon, Regional Solutions, county and local governments for consistent communication at all levels. Please review the plan – it's in three phases: 1) Stay Home. Save Lives. 2) Stay Safe. Stay 6 Feet Apart. 3) Stay Smart. Remain Cautious. The plan is designed to be fluid – as we may move between the phases for the next 18 -24 months, or until the coronavirus is under control.
We are developing economic impact reports on recreational/charter fishing and museums/art centers – these tourism sectors have suffered a lot, but don't get included in reports such as the Dean Runyan annual report. We are also doing reports on lodging, restaurants and retail, and are gathering data for that now. I will share those reports as soon as possible. And a big thanks to the Port of Garibaldi for their frequent updates on the fishing industry. It helps us show what the economic impact is on our community members.
Our team member Julie Hurliman updated the crisis communications action plan to include a pandemic. We had forest fires, massive shootings, earthquakes, tsunamis and flooding in there, but not pandemics. It also includes an updated contact list for state, regional and local levels. We will update the plan with our experience with COVID-19 as we all learn what to do.
A big thanks to Jennifer Purcell for including tourism in the Regional Solutions communication efforts and planning for pandemic recovery. Staying abreast of updates and listening to local needs has I'm sure been invaluable to her work, but to ours as well.
Finally – I want to address those on local Facebook pages who are saying they "hope visitors stay away forever." It's equivalent to saying "hope my neighbor's business goes under and they lose their life savings," or "I hope my town shuts down," or "I hope we have a lot of abandoned businesses."
People have invested their life savings, taken out loans, and put in years of sweat equity to build their businesses, whether it's a small farm, hotel, restaurant, retail store, gas station, grocery store, contracting business, or the Tillamook Creamery Visitor Center.
People, businesses and organizations depend on visitor dollars to employee people, make payroll, enhance local services, pay taxes, buy school supplies for their kids, donate to nonprofits, keep our ports operating, etc. It's economic development that benefits the entire county.
Tourism is interwoven in our community, just like farming, timber, commercial fishing, health services, education, social services and more. Would we want our hospital to disappear? No. Timber industry? No. And yet tourism? Why?
We are in a Stay Home, Save Lives phase right now. And that's good for our entire state. But when visitors are allowed back, and we are all working to control the number of visitors through phased capacity information, I hope you thank them for respecting the guidelines and welcome them. Because we will need them.
There's lots more happening, but that's enough for now. If you have any questions or comments, or if there are things you need from us, please email me at nan@tillamookcoast.com
Thank you to the community for all your support in helping others. It's a great place to live.