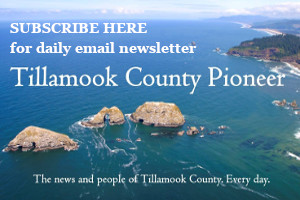 On April 14, 2021 at 1:36 pm, Cannon Beach Fire volunteers were dispatched to a report of 2 young children stuck on a cliff at Hug Point State Park.
Upon arrival, Incident Command established that the two victims were located sitting safely on top of a rock, unable to get back to shore due to the incoming tide.
Cannon Beach Fire personnel established a rope rescue system from the top of the adjoining cliff. A Cannon Beach Fire rescue swimmer made entry into the water to contact the victims and assess their conditions. As well as establish an extrication plan and comfort them.
Seaside Fire & Rescue arrived on scene with 5 personnel and assisted Cannon Beach Fire with water rescue back-up, as well as with the rope system. Nehalem Fire & Rescue responded to the scene and launched their jet skis to assist with rescue efforts.
The 2 victims were lowered down to rescuers into the water via a rope system and were carried back to shore. Both victims were uninjured and suffered only mildly from the cold. The entire rescue operation took a little over an hour to complete, and included 13 fire personnel from Cannon Beach, Seaside, and Nehalem.
Cannon Beach Fire would like to remind all visitors to pay attention to the tides, especially when they are enjoying our many beaches that often can be blocked by rising tides. You can check the daily tide table on the Pioneer or Cannon Beach website at www.cbfire.com, and there are several tide apps as well.
Cannon Beach Fire District would like to thank Seaside Fire & Rescue, Nehalem Bay Fire & Rescue, Cannon Beach Police, Coast Guard and MEDIX Ambulance for their quick response and assistance in this rescue.