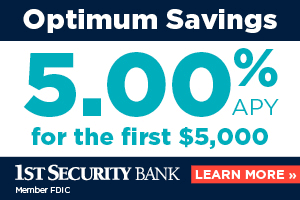 EDITOR'S NOTE: When Shelley reached out to the Pioneer to share Jeff and Nancy's story and the community response, we had it on the "to-do" list. Jeff Hunter has been an active partner in developing beach safety programs and supporting the best of Rockaway Beach for years, and we were devastated to hear about the ALS diagnosis. We of course agree with Shelley that the best things come from our wonderful local community. During this time of Thanksgiving, we hope that you can help. As Shelley suggests, possibly with house upgrades/repairs or with a flexible position for Nancy. The link to the GoFundMe account is at the bottom of the page.
From Shelley Hunter Kukuk
Some Rockaway Beach residents set up a GoFundMe for my cousin, Jeff Hunter. To be honest, we had lost touch for many years and a bunch of us cousins only recently connected again. We had our first reunion in many many years last summer (2019) and that's when we learned of Jeff's recent diagnosis. He was unable to attend. Friends shared this on Facebook, but it seems to me that the real good is almost always done locally. I wondered if sharing his story in your news outlet might get businesses involved who might be willing to help complete the kitchen or have work opportunities for Nancy.
This is their story.
From the GoFundMe page established by Cindy Kay Gregory.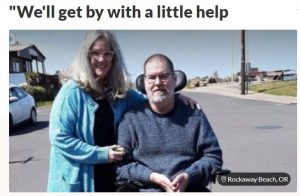 I'd like you to meet Jeff Hunter and his wife Nancy, beloved residents of our little town Rockaway Beach, on the beautiful North Coast of Oregon. Since March of 2017, Jeff has been General Manager of the Rockaway Beach Resort, a homeowners association of condominiums. Jeff has always gone the extra mile to be the most conscientious and welcoming host for both owners and guests. He has provided many special activities, such as crabbing and clamming weekends, that were much enjoyed by both guests and locals. His role of being a super friendly guide and teacher, as well as a wonderful advocate for the Resort and the entire Rockaway community, was always flavored with his own special brand of humor. Jeff and Nancy are so friendly and caring, they quickly became favorites in our little town.
They lived in Cape Meares for ten years and bought a home in Rockaway Beach to be closer to Jeff's job about three years ago. As a former retail site, it needed a lot of modifications! In March, 2019, during the middle of working on the house, Jeff was diagnosed with ALS (Amyotrophic Lateral Sclerosis), also known as Lou Gehrig's disease. ALS is a neuromuscular progressive disease. It slowly destroys all the muscles in the body, including those that control swallowing and breathing. ALS is always fatal. Life expectancy is usually two to five years.
Despite the devastating news, Jeff and Nancy have strived to keep life as normal as possible. Jeff started treatment that is hoped to slow progression of the disease. As his disease progressed, Nancy took a long leave from her job as a flight attendant to be home, caring for Jeff. Ultimately she was furloughed from United Airlines because of COVID-19. She began working at the Resort, to help Jeff continue the great atmosphere and care that homeowners and guests had come to expect.
Work eventually came to a complete stop on the house, as Jeff's disease progressed. Currently, the "kitchen" has only a few tables used as countertops and a laundry sink. Keeping things normal was challenging, but Nancy's care and Jeff's indomitable spirit and wacky humor and community support kept things going.
Then, at the end of October 2020, came another BIG blow.
Jeff and Nancy were let go by the brand-new president of the Resort Board. This was completely unexpected, without any warning. It was also a big shock to the homeowners and guests, who instantly expressed their dismay.
The instant loss of two incomes has such a HUGE impact. Jeff has applied for social security disability, but has been told that, even if it is fast-tracked, it will be 5-6 months before any payments are received. Jeff's level of care means he needs a full-time caregiver/assistant, so Nancy needs to be home with Jeff.
If the Veterans Benefits Administration had stepped up, all of Jeff's needs, both physical and financial, would be covered. But the VA told Jeff that his 4 years in the Oregon Army National Guard "doesn't count" as far as VA benefits go.
We are determined to take away the huge financial burden this places on Jeff and Nancy. The community of Rockaway knows what special people Jeff and Nancy are, and we stand behind them for support. We are now asking for YOUR support and donations to this very special couple who are facing a future that will be difficult and challenging in so many ways. We are hoping to provide replacement income for 6 months, to help with monthly expenses, and also some help with making the house more functional. Your donations and your kind thoughts are so appreciated! Thank you for helping Jeff and Nancy face the future.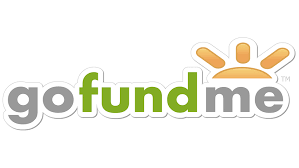 https://www.gofundme.com/f/jypkua-we039ll-get-by-with-a-little-help-from-our-friends