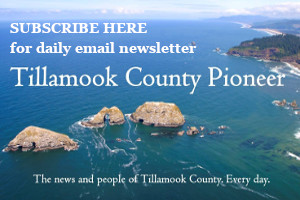 Tillamook Regional Medical Center (TRMC) invites the community to an event honoring those whose lives have been impacted by cancer. The event is being held at the Tillamook United Methodist Church on Tuesday, August 28, 2018. Beginning at 6:00 p.m. is a time to enjoy light refreshments and decorate luminaria in memory or honor of people who have been impacted by cancer. A program of music and spoken word will be followed by a time of reflection viewing the luminaria glowing in the night on the back lawn of the church.
Cancer is a leading cause of death in Tillamook County. In our rural communities, nearly every neighbor is touched by cancer at some point along the care continuum—from prevention to early diagnosis and best-practice treatment and onward through survivorship. Taking time to remember and honor those who lives have been impacted by cancer helps to bring peace to friends and family as well as strength to survivors still fighting the effects of this disease.
"We are blessed to have received several grants from the OHSU Knight Cancer Institute Community Partnership as well as other support from the American Cancer Society to enhance our community's ability to fight cancer," stated hospital president David Butler. "Until we reach the ultimate goal of a world free from cancer, it is important to remember and support each other as together we inspire wholeness and hope. I hope that you will join us for this special tribute event."
Michelle Jenck, program coordinator for the grant-funded Step It Up! Tillamook program stated, "Research shows that physical activity and social support are keys to preventing cancer and reducing cancer recurrence. Please join me in thanking the Step It Up! Tillamook walking leaders and participants from all around Tillamook County for modeling fun and friendly walking groups that help cancer survivors and others from our communities enjoy enhanced health."
For event information please call 503-815-2302 or visit AdventistHealth.org/TRMC/event/we-remember.
This event is presented by Adventist Health in partnership with the American Cancer Society, whose vision for a cancer-free world includes funding and conducting research, sharing expert information, supporting patients, and spreading the word about prevention. Support is also provided in part through the Step It Up! Tillamook Cancer Survivors grant from OHSU Knight Cancer Institute Community Partnership Program that provides cancer survivors and their support networks—friends and family—with access to fun and friendly walking groups that help them to better cope with the disease, manage their stress, and benefit from a healthy habit.
# # #