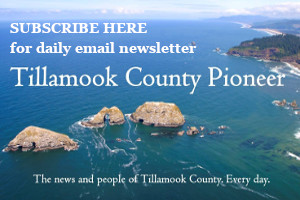 It looks like we start the day with clouds and patchy, misty, fog again thanks to the high pressure ridge and an enhanced onshore flow continuing west of the Coast Range. The clouds and fog will slowly burn back to the coast today leaving mostly sunny skies again, winds becoming westerly 5-10, highs near 69. The marine clouds and fog return tonight after the winds die down, lows near 53.
A weak upper level disturbance approaches from the southwest tomorrow, otherwise tomorrow looks pretty much like today, becoming mostly sunny by the afternoon, winds becoming westerly 5-10, highs near 68, then the disturbance moves across the area tomorrow night bringing cloudy skies and patchy drizzle, calm winds again, lows near 53.
The fog and patchy drizzle end Friday morning leaving partly sunny skies, winds becoming northerly 5-10 gusting to 18, highs near 68, then partly cloudy skies Friday night, light winds, lows near 52.
Saturday and Sunday still look mostly sunny, the high near 72, then partly cloudy nights with some patchy fog possible with calm winds, lows near 54.
It is still looking like next week we see some elevated temperatures though the models have still not settled on if it is going to be hot, or real hot! For now, we go with Monday and Tuesday being mostly sunny with highs Monday up near 79 and Tuesday climbing up into the mid 80s. The valley is looking at temperatures around 85-90 by Tuesday with a chance that they might see temperature in the mid to upper 90s, and a slight chance that highs next week could hit the triple digits. Individuals should prepare now in case we do see a heatwave that last for much of next week. As the National Weather Service Portland points out, prolonged exposure to heat can result in heatstroke and heat exhaustion. The homeless, the elderly, children, and those already with health issues are most at risk under the high heat conditions. Higher temperatures may also increase heat related emergency calls resulting in longer response times.