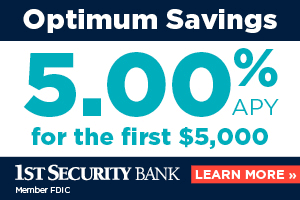 Wednesday, September 7, 2022
Weather
We had an upper-level trough move across today that gave us some upper level cloudiness along with some gusty winds. So, we continue with the mostly clear skies tonight, the gusty northwesterly winds 10-15 gusting to 25 will ease overnight becoming light and variable in the early morning hours, the low down near 49.
The trough continues to move east tomorrow, and we continue with the more seasonable weather, sunny skies, winds northerly 8-12 gusting to 20, the high near 68. Mostly clear skies tomorrow night, winds still breezy from the north 8-12 gusting to 25, the low near 53.
A front pushed inland near British Columbia Friday night and drops east of our area, and this will be the catalyst that results in us seeing the warmer, dryer offshore flow Friday that will also bring the increasing fire weather concerns across the area. We can expect sunny skies Friday, the winds becoming easterly 10-15 gusting to 25, the high pushes up to near 81. With mostly clear skies Friday night and the breezy easterly winds, lows only drop to near 63.
It looks like Saturday will be another sunny, warm day with the easterly winds easing in the afternoon, the high up near 84 degrees. With the flow becoming light, but onshore, we start to see a return of the marine clouds, the low around 56.
With the onshore flow increasing Sunday, we can expect partly sunny skies, the high near 71. The marine clouds push in Sunday night with the onshore flow, lows near 55.
It looks like a trough of low pressure will give us some increased cloudiness and cooler temperatures for the start of next week. The forecast, mostly cloudy skies, highs near 67, lows near 53.
National Preparedness Month
An important beginning to becoming prepared is to know which natural disasters can occur in your area and how to prepare and stay safe. Make a list of these possible natural disasters and once you determine which disasters affect your area, knowing how to receive alerts associated with the disaster is important.
Did you know you can receive important lifesaving alerts no matter where you are – home, school, or work. A NOAA Weather Radio can alert you about local weather Advisories, Watches, and Warnings. Some weather and safety information can also be relayed thru social media. However, please remember that this is NOT and official means of receiving important lifesaving information.
Make sure you know where the nearest shelters are, as well as appropriate evacuation routes/plans for specific situations.
More planning information will be offered tomorrow!