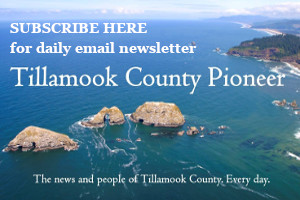 EDITOR'S NOTE:  Spring break was when Tillamook County was "invaded" by visitors from out of the area as well as out of state – disregarding the "stay at home" orders.  We continue to be in a pandemic, and travel is one of the ways for spreading COVID-19, and now especially the variants.  Even as vaccinations continue, we must all continue to consider our vulnerable populations, and that many are not vaccinated.  Wear a mask, wash your hands and watch your distance.
Spring break is nearly here. Many of us, including students, would normally be heading to the coast or out of state.
But, like last year, we are still in the pandemic – and travel, especially by plane, bus or train, increases our chances of getting and spreading COVID-19.
Case numbers in Oregon are dropping, (BUT NOT IN TILLAMOOK COUNTY – our cases are increasing!) and vaccination rates are growing. The things we are doing right now to keep ourselves, our friends, our families and communities safe are working to reduce transmission. But we should not let down our guard.
Though many of us may be getting the travel bug, across the country and around the world COVID-19 is still spreading. By avoiding travel and staying home, we can protect ourselves and others from COVID-19.
Check out our travel guidance as you make plans, and remember that:
If you leave the state, we recommend quarantining for 14 days when you return.
Your airline may require health information, testing or other documents.
Local policies at your destination may require you to be tested for COVID-19.
If you test positive on arrival, you may be required to isolate for a period of time.
If you leave the U.S., including for Mexico, you'll need to have a negative COVID-19 test, or documented recovery from COVID-19, before boarding a flight home. (The CDC offers more details on international travel requirements.)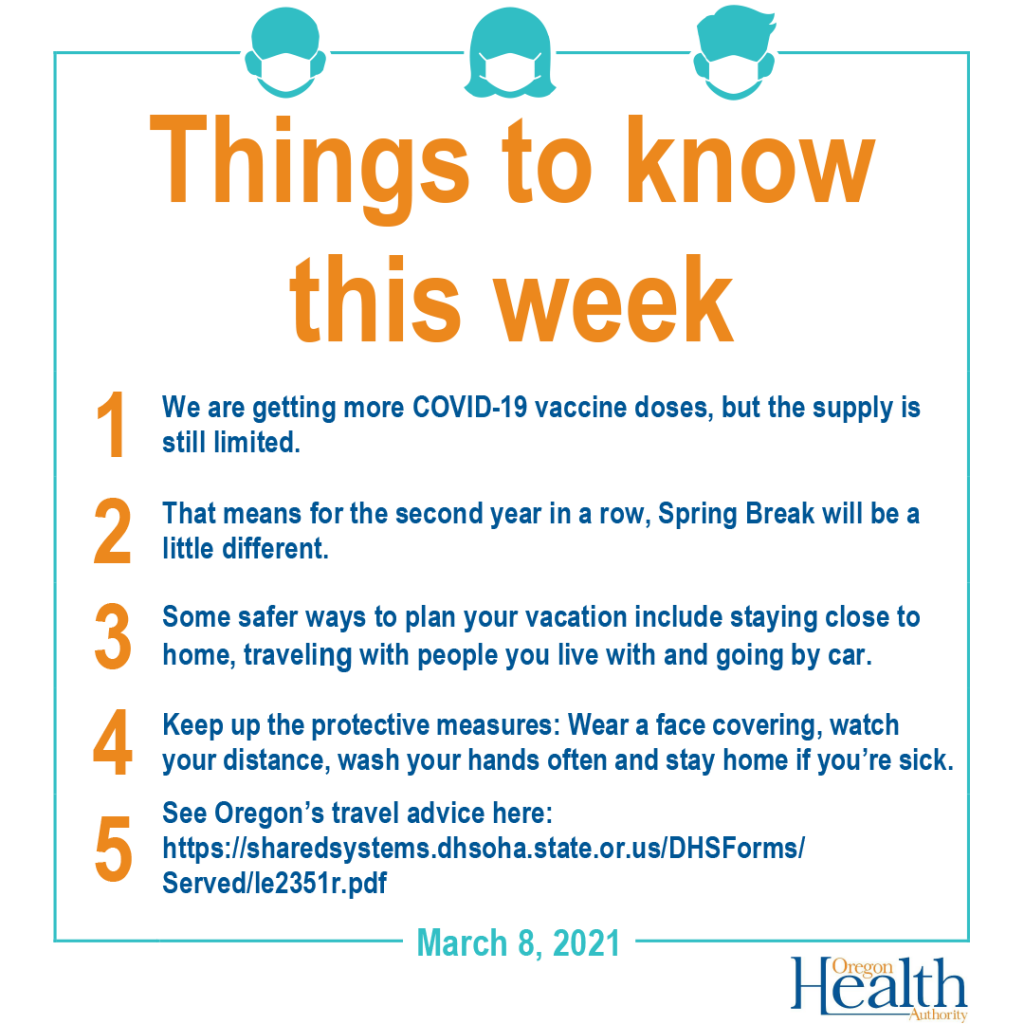 Scheduling process for 65 and older updated in Portland metro area
This past weekend, Oregon Health Authority (OHA) and All4Oregon successfully piloted a new process for scheduling a first COVID-19 appointment at the Oregon Convention Center (OCC).
The new process is being immediately rolled out this week after a weekend in which more than 1,800 people were able to secure vaccination appointments. This change is expected to speed up scheduling and reduce stress and anxiety.
Eligible older adults who live in Clackamas, Columbia, Multnomah or Washington counties who registered for a vaccine through the Get Vaccinated Oregon (GVO) tool will receive an advance email from 

OHA

 indicating they will be receiving email notification from All4Oregon inviting them to make an appointment at OCC.
That message from 

OHA

 will be followed by an email from All4Oregon that contains a unique individualized link that connects to the All4Oregon scheduling site with open dates and times for vaccines available the next week. This link will expire if not used within five days.

OHA

 will allocate 15,000 vaccines a week, about 50% more vaccines, for the next three weeks to All4Oregon to vaccinate adults 65+ in Clackamas, Columbia, Multnomah and Washington counties.
If you live in another part of the state and are 65 or older you can also use the Get Vaccinated Oregon tool to register for notifications and find information about vaccination events in your area. Locations and steps to get vaccinated will differ from county to county.
If you provide Get Vaccinated Oregon with your email, please check all email inbox folders, including spam, promotion and trash, in case the invitation ends up diverted to the wrong folder.