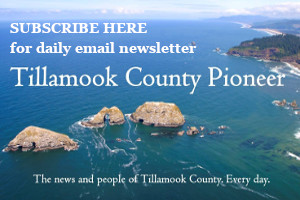 Story & photo by Robin Swain 
The City of Rockaway Beach will be voting on many items at the May Council Meeting. You can go to the City's website corb.us and sign up to have the Agenda emailed to you. If you can't attend in person you may join by Zoom (see below for links.)   
Any questions or comments can be emailed in advance by 4pm, as well.  
Guest speaker at this meeting will be Tillamook County Community Development Director,  Sarah Absher. Her presentation topics will be SB 406 and FEMA Biological opinion.  
Monthly Reports from Public Works, Fire Department, Sheriff Department and City Manager 11 
Two public hearings at the May Council meeting: 
Proposed uses of State Revenue Sharing Funds for fiscal year 2023/2024

Budget for fiscal year 2023/2024. The purpose of this Public Hearing is to receive citizens' testimony on the Budget approved by the Budget Committee. 
Other Items up for vote: 
Renewal of contract with Tillamook County Sheriff Department

Grand Marshal for 4

th

of July parade 

Volunteer of the Year
It will be a long but important meeting your attendance and your citizen input is appreciated.  
For those attending in person, there are sign up sheets for citizen input. You can also specify which Agenda items you would like to give your input on.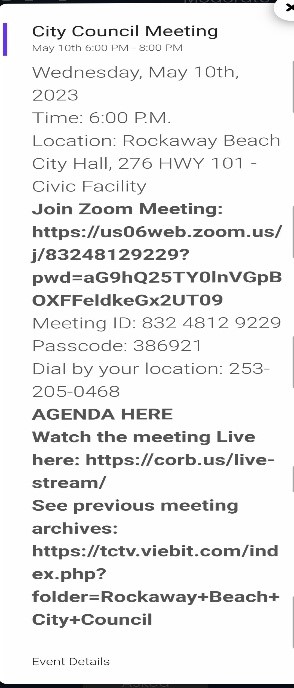 Those on zoom raise the hand icon. 
Join Zoom here to Comment remotely:
Regular City Council Meeting
Meeting ID: 832 4812 9229
Passcode: 386921
Dial by your location
253 215 8782 US (Tacoma)
Meetings are streamed live at: https://corb.us/live-stream
Regular City Council meetings are video-taped and available for viewing on TLCTV, Charter Communications Cable Channel 4.
Please go to the Rockaway Beach City website for more information. www.corb.us