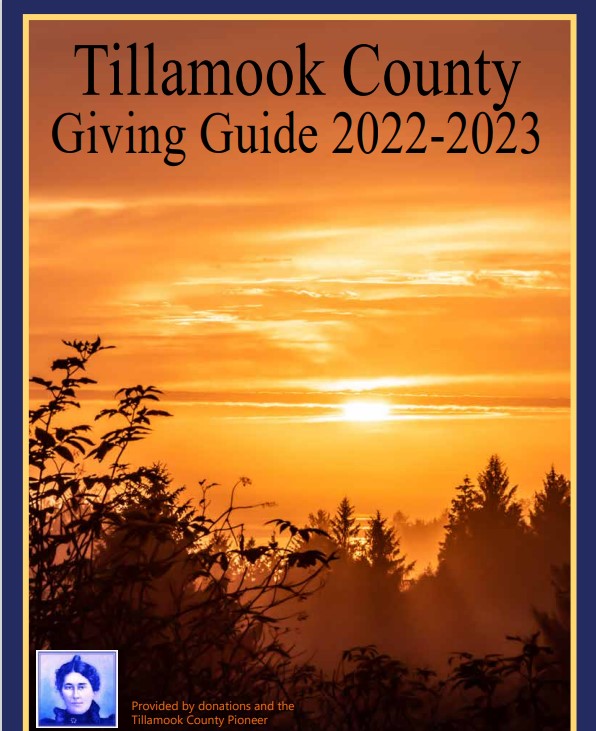 What's your vision of a healthier future? What helps you to be healthy and what gets in the way? What can we do to improve or help you to live your best life?
These are the questions at the heart of Columbia Pacific Coordinated Care Organization's (CCO) story collection survey. Across the communities we serve, more than 1,250 people shared their experiences of health and well-being with Community Advisory Council members, staff and community partners from September through November. The stories we collected covered a variety of subjects, including food access and nutrition, housing, access to prescriptions or providers, mental health and many other topics. The results of the survey will be included in Columbia Pacific CCO's Community Health Improvement Plan, which will guide our community health improvement investments from 2020-2025.
"Your story is a very powerful tool. Your voice says so much more about what is working and what could be improved than a typical health care survey can," said Nancy Knopf, community health partnership manager. "The process we used allowed us to not only gather stories, but also to have participants tell us what their stories meant and what they most wanted us to know by rating their experiences. It provides a community view of what builds health and well-being that we will learn from and work with as we focus our efforts for the next five years."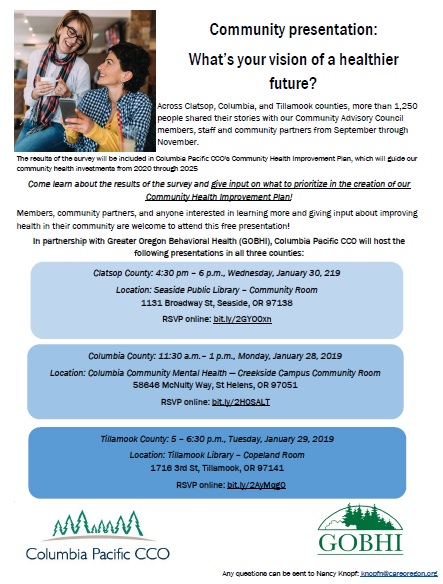 Community road shows
Community members will have several opportunities to see the results and weigh in on what to prioritize in the Community Health Improvement Plan. Columbia Pacific CCO in partnership with Greater Oregon Behavioral Health, has developed a community road show to reveal the survey results and population data, and to give an opportunity to vote on health priority areas. The road show will have a kick-off each in county:
Clatsop County 4:30 – 6 p.m. Wednesday, Jan. 30, 2019 Seaside Public Library 1131 Broadway St., Seaside Register here: https://bit.ly/2GYO0xn
Columbia County 11:30 a.m. – 1 p.m., Monday, Jan. 28, 2019 Columbia Community Mental Health 58646 McNulty Way, St. Helens Register here: https://bit.ly/2H0SALT
Tillamook County 5 – 6:30 p.m. Tuesday, Jan. 29, 2019 Tillamook County Library 1716 Third St., Tillamook Register here: https://bit.ly/2AyMqg0
We're also considering additional dates in February and March. Any questions or opportunities to schedule a presentation for your organization or community meeting can be sent to Nancy Knopf: knopfn@careoregon.org.