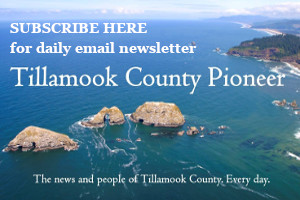 The Tillamook County Wellness "Why I'm In" interview series highlights our community partners and what has inspired and motivated them to work toward the common goal of improving community health.
What drew you into the Year of Wellness, now Tillamook County Wellness?
Butler: Wellness is a movement I personally believe in. I like feeling good. This is a personal commitment that my wife and I have made to each other and to our children. We want to have a fruitful life and enjoy each other and our family and friends for as long as we can.
From a faith-based perspective, I believe God created these amazing bodies, this machinery, that can take care of itself if we are putting the right things into it. I think it's to our advantage to understand what works for each of us. What may work for one person, may not work for others. In general, though, there are best practices we can follow and that's what we are doing here.
As an organization, I have always been in favor of "well care" rather than "sick care." That's why I love Tillamook County Wellness. It's focusing more on long term health. We know we can prevent Type 2 Diabetes. There is so much evidence out there. We are almost negligent if we don't do this.
What, if any, changes have you seen come about as a result of this work?
Butler: I am seeing more education, more marketing. I think a lot of this is just about education – people understanding that they can have hope and that there is a way out. Demonstrating how they can feel better and how they can eliminate some of the ailments they've had.
Our CHIP program is a great example of how we are changing health. We have had 500 residents go through the program since it started. That's 10% of the city's population! People lose weight, their health improves and they feel better. The results we have seen have been amazing.
On the healthcare side, I am seeing excitement on the part of some of our providers. I like that this is about more than one organization. We are seeing prejudices, walls and barriers coming down by educating, communicating and partnering.
What have you learned from being involved in this work?
Butler: I've learned that you need to have thick skin and be persistent; that, if you stay the course and don't give up, you can achieve quite a bit. People will get on the bandwagon and provide resources and help. I've learned that, when you get a lot of people changing, you get everyone's attention and then even more people want to become part of the movement.
What are your hopes for this work as it relates to you/your organization?
Butler: My hopes are that we see more businesses and organizations support this. By that I don't just mean going to meetings but contributing resources and money. I'd also like to see civic organizations and mom and pop businesses supporting this within their organizations. We are not talking about expensive changes in lifestyle habits. We aren't talking about running a marathon here. We are talking about tweaking things. It's about getting outside for fresh air and sunshine. My family bought a trampoline and we are all using it. It's great for our health and it's fun.
Another hope is that the food and restaurant industry in our county jumps on the bandwagon and starts offering more healthy options. Maybe even offering special "approved" menu items that align with our wellness efforts. We are stepping up in our own hospital cafeteria, intentionally offering healthier options in the ingredients we serve.
What are your hopes for this work as it relates to changing population health in Tillamook County?
Butler: If I think about taking that "big swing" it would be to see Tillamook County meet the criteria of a Blue Zone, places where people are living longer, healthier lives as whole population. We know there is a link between lifestyle and chronic disease and mental health but what are we doing about it? Wellness means reversing a chain reaction. If we can change our lifestyles, we can reduce disease, depression and even suicide rates.