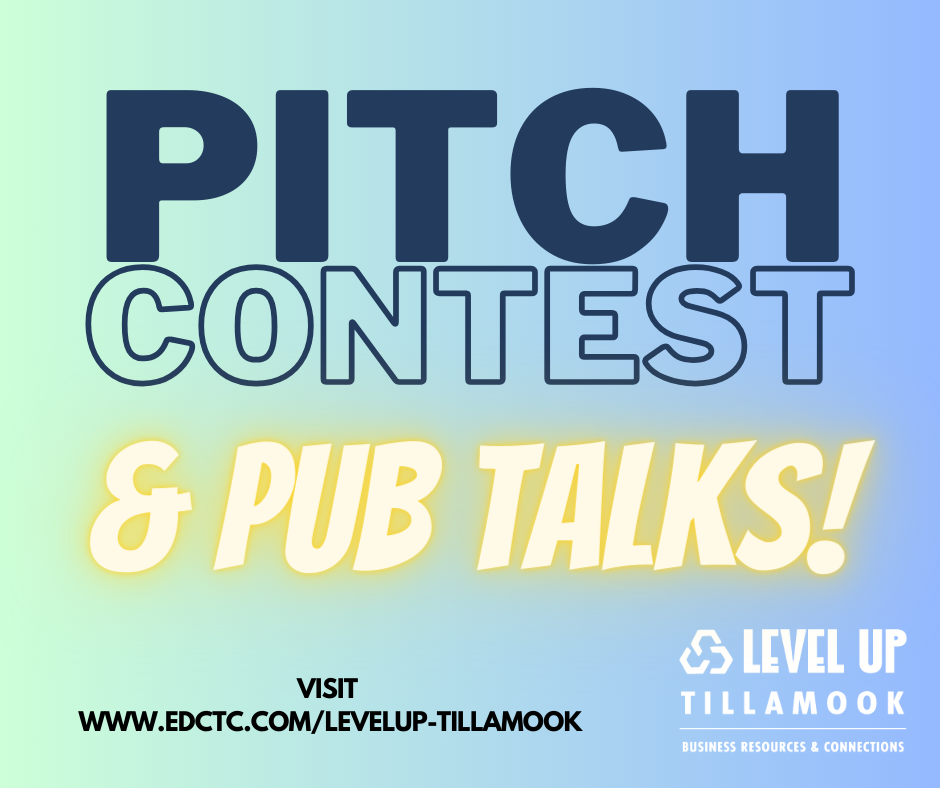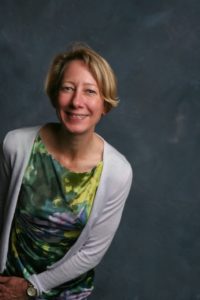 by Judy Barbe, Registered Dietitian, LiveBest
 "You have brains in your head, you have feet in your shoes, you can steer yourself in any direction you choose."  —Dr. Seuss
You've likely entered a drawing where you must be present to win a prize. Now think about how that applies to you. To me, you must be present to win means that you need to show up in your own life. Living with intention and making the most of what you have, to live the life you want.
Are you using your brains and feet to live that life? Most people want to live with vitality — to live a higher quality of life longer. Yet, most of us don't need a complete overhaul — but, instead, a touch up, a refresh, a reboot.
For that reboot to begin you need to make a decision when you come to a fork in the road. I believe you're reading this because you want to take the fork that leads you to live even better.
Yay, you!
A LiveBest Reboot
As a registered dietitian, people always want to know what I eat. So, I started writing down what I ate. That became my book, Your 6-Week Guide to LiveBest, Simple Solutions for Fresh Food & Well Being. My goal was to take the mystery out of "healthy eating" and to help people explore more power-packed foods. It's true that foods can be delicious and good for you – all on the same fork. But food alone can't bear the burden of a healthy lifestyle. What you put on your fork, how you use your feet, whom you connect with, and how you feed your soul are keystones to better living. It's all about having a positive approach to food and having good life patterns that set us up for success.
Want your own reboot?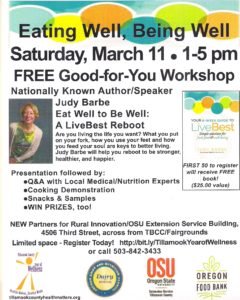 Join the fun! I invite you to invest a few hours in yourself at the Year of Wellness Eating Well, Being Well good-for-you workshop on March 11. Organized by Tillamook County Year of Wellness, we will nudge you to be stronger, healthier and happier.
Featured Presenter: Judy Barbe, Registered Dietitian
Local presenters will talk about nutrition resources in Tillamook County
Q&A moderated by Jessica Linnell, PhD, Assistant Professor of Practice in Family and Community Health, Oregon State University Extension
Plus a cooking lesson lead by Hallie Hopkins, Education Program Assistant, SNAP-Ed, Oregon State University Extension
Register online http://bit.ly/TillamookYearofWellness or call (503) 842-3433. Better get to it because the first 50 people win a prize! Those who register early will receive a FREE copy of my book. But, you must be present to win 😉
Thanks to the generosity of our sponsors: Oregon Dairy and Nutrition Council, Oregon Food Bank, and Oregon State University Extension.
Eating Well, Being Well
March 11, 2017 – 1:00 – 5:00 pm
Partners for Rural Innovation Center, Rooms 105 & 107, 4506 3rd Street, Tillamook
In the meantime, enjoy these Sweet Potato Nachos. No chip required!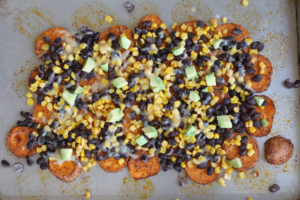 Seriously Simple Sweet Potato Nachos
Recipe source: Judy Barbe, LiveBest.info
Number of servings: 2
Ingredients:
1 large sweet potato, sliced 1/4-inch rounds
1 teaspoon chile powder
1 teaspoon canola oil
1 10-ounce can black beans, drained and rinsed
1 10-bag frozen corn
1/4 cup cheese, shredded
1/2 avocado, chopped
Directions:
Preheat oven to 425°F.
In a large bowl, stir sweet potatoes with chile powder and oil. Lay potatoes in a single layer on large baking sheet. Bake for 18-20 minutes until cooked through. A little browning is OK.
Place the corn in an ovenproof skillet. Roast in oven, stirring once, (at the same time you're cooking the potatoes). Cook until some are turning brown, 18-20 minutes.
When potatoes are done, top with black beans, corn and cheese. Return to oven and heat until cheese melts. Sprinkle with avocado.
Connect with me on Twitter @JudyBarbe or visit my website www.livebest.info.