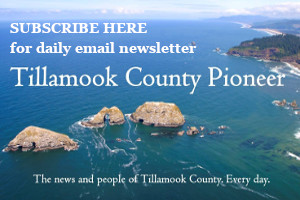 By Laura Swanson, YOW PR Coordinator
Autumn already? Feel like you're just "falling into Fall" wondering, what happened to August and September? Take some time in October for a focus on caring well – for our children and with self care. There are several upcoming events from the Year of Wellness (YOW) and community partners to help you with ways to improve our lives and the lives of our community's children from nationally-recognized speakers. Space is limited at these presentations, please register as soon as possible.
October 5th, the Circle of Security Parenting (COS-P) program comes to Tillamook, sponsored by YOW and Columbia-Pacific CCO. Held at TBCC, this is a FREE full-day training event, from 9:30 am to 4:30 pm, and registration is required, at https://cosp_tillamook.eventbrite.com. This interactive presentation equips parents, teachers, and caregivers with new tools to create a better quality relationship with infants, children, and/or students. Hungry for Love author Charles Slaughter, MPH, RD, provides a three-part, one-day experience that teaches information and skills to build resilient children as they develop.


Charlie Slaughter is an early childhood prevention coordinator for the Connecticut Department of Children and Families and has a passion for helping children, parents, and providers thrive in life. Charlie was awarded the first ever Circle of Security International award in 2013. He has been instrumental in helping to spread Circle of Security Parenting (COS P). He is interested in the potential for using COS P to create a community-wide approach to build and support secure attachment in children. Charlie also works with preschools and parents to build developmentally healthy mealtime environments. He is the author of Hungry for Love: Creating Mealtime Environments that Build Connection, Life Skills, and Eating Capabilities. Charlie is also interested in effective systems change within communities and organizations to support children's healthy development.
Later in October, SOS Tillamook continues their "Community Conversations" with a speaker series featuring Robin Rose on October 19th and 20th that provides a focus on self-care and stress reduction. Join us for one or all three workshops exploring how our own behavior and attitude can affect the people around us. Learn how to recognize and change our brain response. Rejuvenate our passion for what we do both professionally and personally. October 19th at the Tillamook Main Library from 5:30 to 7:30 pm "Taking a Brain Break"; October 20th at TBCC from 9 am to Noon, "Leaving it at the Door: Professional Resilience", and then from 1 to 4 pm, "Smiling and Nodding: Working with Challenging People."


A renowned trainer, speaker and consultant, Robin's expertise is in teaching people how to stay calm, professional, and effective — especially during high-stress, high-pressure situations. Robin helps people be their best when it matters most.
Reaching beyond the common model of "anger management", Robin's approach helps people understand exactly what happens, chemically and physiologically, when they get stressed. She teaches people how to override the fight or flight response, how to shift from reactive impulses into more effective responses, and how to stay respectful, productive and most importantly — professional.
People walk away with immediately useful tools that allow them to move beyond the limited reactions of the survival brain back to their thinking brain. This is where all their best abilities and optimal solutions are easily accessed.
Registration is required for these workshops at: https://sosrobinrose.eventbrite.com. For more information contact: DeAnna Pearl, Prevention Specialist, SOS Tillamook, the prevention program for Tillamook Family Counseling Center, DeAnnaP@tfcc.org; (503) 842-8201 x 270.
Multiple forms of Continuing Education Credits are available for attendance at these trainings. For more information, please email whiteh@careoregon.org or deannap@tfcc.org.