A note from Lillian Shirley, Director of Oregon State Public Health:
In this week's Weekly Report, OHA has added COVID-19 case data by ZIP code and county. OHA is taking steps to protect patients' privacy by combining data. If a ZIP code's population is less than 1,000, we will combine ZIP codes and report the aggregate case count. Also, if there are fewer than 10 cases in a ZIP code, then we will be reporting "1-9."
The goal of releasing the data is to help people better understand the extent of community-based spread of the virus. We are committed to being transparent and accountable to all the communities we serve, especially those hardest hit by the pandemic.
OHA wants to acknowledge the degree to which data, particularly by zip code, may contribute to or reinforce stigma and discrimination in communities of color and underserved neighborhoods. We know from earlier analysis that communities of color in Oregon have been disproportionately impacted by the virus.
OHA's Health Equity definition states, "Achieving health equity requires the ongoing collaboration of all regions and sectors of the state, including tribal governments to address: (1) The equitable distribution or redistribution of resources and power; and (2) Recognizing, reconciling, and rectifying historical and contemporary injustices."
Inequities in OHA's data are likely to reflect the inequitable distribution of power and resources among Oregon communities. OHA believes by sharing this data, we can identify and continue conversations with affected communities for how to redistribute resources and power to rectify injustice. We are committed to helping the public better understand "why" the impact of the disease is shouldered more by certain communities.
Governor Brown announces limited opening of state recreational areas
Governor Kate Brown announced the limited opening of some state parks, outdoor recreation facilities, and areas across Oregon for day use, effective today. Camping opportunities will become available as federal, state, local, and private providers are able to prepare their facilities for visitors. Ski resorts also will be able to resume activities under a new executive order that will be released soon. As this limited reopening occurs, it is essential that Oregonians recreate responsibly to protect the health, wellness, and safety of themselves and others in local communities.
Reopening outdoor recreation areas will be a phased approach as it becomes safe. Columbia River Gorge parks and recreation areas, as well as coastal areas that are not yet ready to welcome visitors back, will remain closed for now, while the Oregon Parks and Recreation Department coordinates with local jurisdictions and partners in Washington to determine the appropriate timing for reopening.
Protecting your health if you have diabetes
OHA continues to release additional data about risk factors for COVID-19 and underlying health conditions. We've heard that many of you are interested in learning more about why certain underlying conditions can lead to complications from COVID-19. The graphic below shares information about why diabetes puts people at a greater risk for severe illness from COVID-19 and how you can protect your health.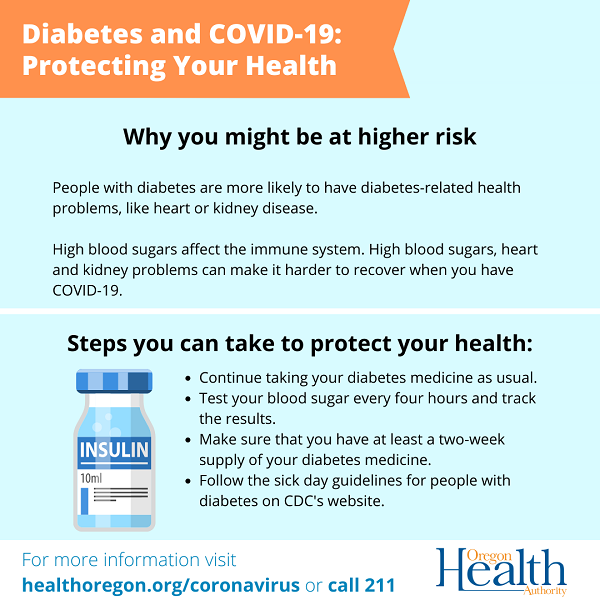 Oregon reports 72 new confirmed COVID-19 cases, 8 new presumptive cases, four new deaths
PORTLAND, Ore. — COVID-19 has claimed four more lives in Oregon, raising the state's death toll to 113, the Oregon Health Authority reported at 8 a.m. today.
Oregon Health Authority reported 72 new confirmed cases and 8 new presumptive cases of COVID-19 as of 8 a.m. today bringing the state total to 2,839. The new confirmed and presumptive COVID-19 cases reported are in the following counties: Benton (3), Clackamas (5), Clatsop (9), Coos (1), Deschutes (1), Hood River (1), Josephine (2), Linn (1), Marion (13), Morrow (1), Multnomah (15), Polk (19), Umatilla (3), Washington (5), Yamhill (1).
To see more case and county level data, please visit the Oregon Health Authority website, which OHA updates once a day: www.healthoregon.org/coronavirus.