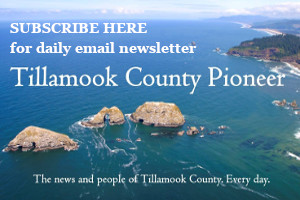 By Gordon McCraw, Meteorologist for the Tillamook County Pioneer
Wednesday, October 26, 2022
There were plenty of thunderstorms last night that moved ashore near Newport and east into the Coast Range, associated with a cold front that moved southeast through the area. Today we had the usual post-frontal scattered showers, less the thunderstorms, but tonight we have a weak high pressure ridge moving across that is capping the activity some. We can expect some light winds tonight, the low near 45.
There is still a slight chance of a widely scattered showers tomorrow morning with the winds easterly 5-10, then we start to see a slight chance of rain with another approaching front tomorrow afternoon, the winds shifting to southwesterly, a high near 59. In comes the rain again tomorrow night, winds southerly 4-8, lows near 46.
The rain continues Friday with the system developing into a weak atmospheric river event, winds southerly 4-8, highs near 57, cloudy and rainy still Friday night, light winds, some patchy fog possible late, lows near 44.
The weekend also looks wet with more rain likely during the day Saturday, turning to scattered showers Saturday night but then more rain likely for Sunday as a trough of low pressure drops into the area and could bring more moderate rain along with gusty winds. High temperatures dropping into the mid 50s by Sunday, lows into the mid 40.
As for next week, the active weather pattern continues so continued cloudy and rainy conditions with highs dropping into the low 50s, lows down to near 50 by Tuesday. The long range models suggest the rain finally starts to ease some after midweek.
The river forecast is finally starting to show some increasing flow rates, but they continue to be way below levels that could cause any flooding concerns. The increase is barely enough to get the fishermen excited.