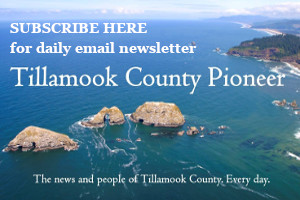 By Gordon McCraw, Meteorologist for the Tillamook County Pioneer
Monday, December 12, 2022
With a ridge to the west, we were in a northwesterly flow this morning that is pushing some weak showers southeastward over the coast but then the ridge built in bringing improving conditions to our area along with some light easterly winds this evening. A combination of the light winds and radiational cooling from the partly cloudy skies will lead to cold temperatures tonight with the lows dropping to near 31.
Tomorrow starts out with some patchy fog otherwise we can expect a mostly sunny day with the winds becoming westerly 4-8, the high near 45. The light east winds return overnight tomorrow, and with the partly cloudy skies, the lows again drop to near 30.
The ridge of high pressure will develop into a blocking high pressure ridge off to the west, blocking systems from reaching the coast, and also brings partly to mostly sunny skies to the region Wednesday, Thursday, and Friday with highs around 46, the lows stay down around 30 under the mostly clear nights. With the ridge firmly in place and with little mixing in the lower levels, air stagnation is a concern over in the valley this week.
As for the weekend, we see two different solutions in the models, one set keeps the ridge over us, so we see little change in the weather, the others push a tough of low pressure down over the area while a few other models push it off to our east. For now, we split the differences and say Saturday looks mostly sunny, highs near 45, partly cloudy Saturday night with a low near 29. Mostly sunny Sunday with a slight chance of rain, the high near 43 and with some correct timing as in temperatures at or near freezing and some moisture, that gives us a slight chance of low level snow as well, early Sunday morning and again early Monday morning with the lows still below freezing.