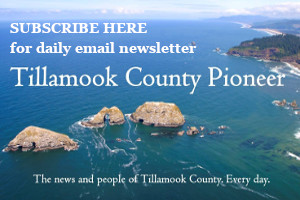 By Gordon McCraw, Meteorologist for the Tillamook County Pioneer
Friday, August 19, 2022
Well, the temperatures yesterday were moderated by the mid and high level clouds that move into the area from the southeast. All the associated rain was over towards the Cascades but areas west of that had high dewpoints, so while the temperature did not climb as expected, the dew points did not go down, thus we felt the moisture in the form of higher relative humidity.
Today we had a low pressure area move up the coast that will continue to move up and then into the north towards the Vancouver Island area. The result was the persistent marine clouds that we saw today, that are present still and will persist thru tonight, the winds will diminish, tonight's low near 58.
So, we start out cloudy again tomorrow, but the clouds will slowly burn back leaving a mostly sunny afternoon for most, winds becoming westerly 5-10, the high near 70. Partly cloudy skies remain tomorrow night, light winds, lows near 55.
The ridge builds back some Sunday, and we see partly sunny skies with the winds becoming northwesterly 5-10, a high near 72. The marine clouds return that night with calm winds, lows near 55.
Monday August 22nd on we see a lot of model differences, some mention a trough of low pressure moving in, most say a ridge will build into the area from the Pacific, then there are the temperature differences related to the strength of the ridge. So, we throw all this in a blender and come up with the following forecast, partly sunny and 72 Monday, mostly sunny and 73 Tuesday mostly sunny and 75 on Wednesday and by Thursday we could see mostly sunny and 77.
As you might expect, the valley temperatures also appear to climb next week, into the low 90s by midweek, peaking in the mid and upper 90s Thursday before starting to ease Friday on thru the weekend.