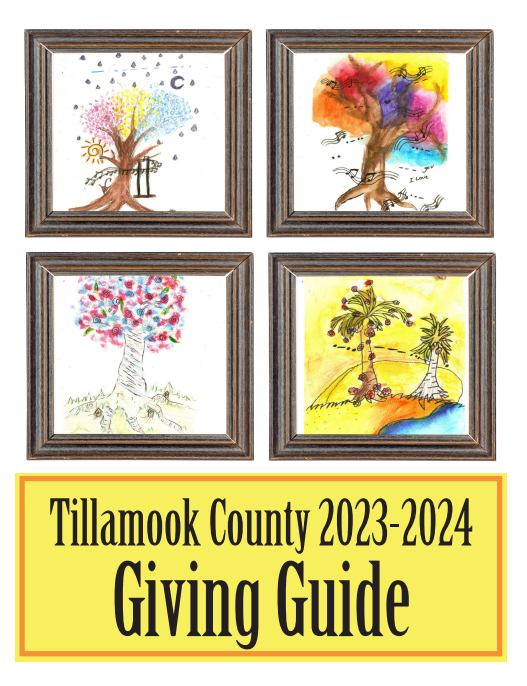 EDITOR'S NOTE: On June 13, 2022 we shared a story about two stolen vehicles and an important passenger in one of them – Cuddlebutt, a very large black lab was in the stolen vehicle. See below for the original TCSO story and today's update.
June 16, 2022 – 1 pm
Thanks to your help, Cuddlebutt has been located safe and sound and is with TCSO Deputies. He will be reunited with his humans shortly.
Oh yeah, the Stolen Nissan Pathfinder was also recovered, but we all know what everyone was really concerned about.
Investigators have possible identities of the two suspects and are continuing the investigation. Arrests are expected soon. We will update when that occurs.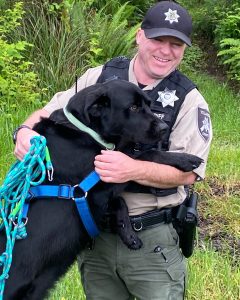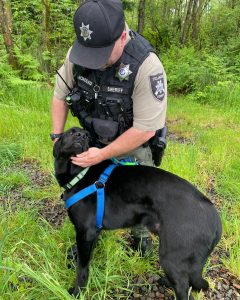 According to TCSO Corporal Chris Barnett, Cuddlebutt does indeed live up to his name, and he provided many kisses and hugs to Deputy Chris Rondeau.
"When we got to him in the car, he needed to urinate badly, that was the first thing he did when he was released from the vehicle," said Corporal Barnett. "Then he drank all of the water from my water bottle. Then he thanked us. He is definitely a lover."
For more information regarding this story, see post below. Photos by Cpl. Barnett.
https://www.tillamookcountypioneer.net/tillamook-county-sheriffs-office-needs-your-help-locating-stolen-vehicle-pet-identifying-suspects/