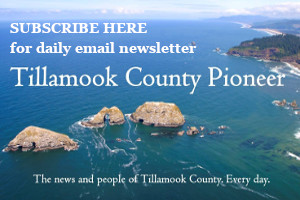 EDITOR'S NOTE: In April of this year, we shared the news of the sale of Sheldon Oil to GP Energy, an Andretti Group company based in Grants Pass. As this homegrown company Sheldon Oil changes ownership, and Mike, Shell, Niki and Lisa Sheldon ride off into the sunset, let's acknowledge this company's amazing community support throughout the years — if there was fundraiser they donated – Charity Drive, Tillamook High School, Neah-kah-nie High School, Tillamook County Fair, CARE Bowl-a-thon, Relay for Life, the list goes on and on. The good news is that GP Energy will continue the Sheldon Oil brand, and the company's commitment to the local community. There will also continue to be familiar faces and several Sheldons on the the employee roster. Congratulations, indeed!
From Sheldon Oil Facebook Page: Where do we even begin with this post?
With a great big CONGRATULATIONS to Mike, Shell, Niki, and Lisa Sheldon as they enter the next chapter of their lives: retirement!
Monday June 21, 2021 marks their last day as business owners as they hand the reigns of Sheldon Oil over to GP Energy of Grants Pass today June 22nd, and transition out of the business they, along with Mike and Shell's parents, have worked so hard to build.
Shell and Mike have worked their butts off to more than triple the business since they took over in 2001. They have built a reputation as a fair and knowledgeable business partner to hundreds, if not thousands, of customers throughout Tillamook and the surrounding areas. None of which would be possible without their fearless partners, Lisa and Niki.
While we are unbelievably sad to see them go, we are even more happy for them to finally reap the benefits of all the time, blood, sweat, and tears, they've poured into this business and the industry since the early 1980s. We hope to do them proud as we continue on under the new ownership, practicing everything they have taught us over the years.
Thank you from the bottom of our hearts for being the best employers we could ask for – we wish you guys nothing but happiness and uninterrupted relaxation in the coming years!
From Khayla Sheldon (who will continue to work at Sheldon Oil)
"Don't cry because it's over, smile because it happened."
Monday June 21, 2021 marks the end of era as we say goodbye to our generations-long legacy of owning a piece of the fuel business in Tillamook County. I am so proud of everything my family has built; their dedication to customer service and support for this community will forever leave its mark. The times we were able to give back, working alongside each other, will always be some of my favorite memories.
I've gained so much from growing up in this business. I've learned how to work, gained confidence, and made lasting friendships. Everything I have is because of the work my family put in before me and I'm forever grateful to each of them.
I'm not sure what we'll talk about around the dinner table moving forward, as work has always been at the forefront of every conversation as far back as I can remember, but I hope it involves lots of stories about my parents' adventures as retirees. They are by far the hardest working people I know and nobody deserves an early retirement more than them.
Thank you, Mom and Dad, for all that you've been able to give and teach us over the years. Every long day, late night, and missed vacation has led you to this – enjoy every minute of this next chapter of your lives.
Here's the press release from April, 2021 that announced the sale:
https://www.tillamookcountypioneer.net/andretti-group-affiliate-gp-energy-acquires-tillamooks-sheldon-oil/