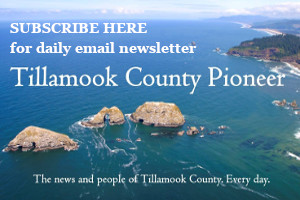 By Charles McLaughlin
Ok. When we last talked about Bakersfield, Mom had just driven us there from San Francisco in her 1932 Chevy. Why did she decide to leave such an idyllic city to live again in a rural, unsophisticated burg surrounded by farms and oil-patch? Well, I'll tell you why. She had received notice my now felon-tainted Dad was to be released on parole from San Quinten prison and would meet up with us down in old "B" town. She needed time to get our new home ready for him and for us, too. Considering all the aforementioned crickets that had taken up residence there, it wasn't quite ready when we showed up! But we settled in for the night as best we could in the sweltering heat, lulled to sleep by the steady but strangely hypnotic sounds of the crickets' legs sawing away like bows on a scratchy old violin string.
The house at 2217 E Street belonged to Dad's Mom, my Grandma Blanche Pettye. Dad's Dad had passed away. He died in Monmouth, Illinois and was buried there where our family's cemetery plot was located. Lots of McLaughlin bones lie there and, in turn, the bones of Grandma Pettye, Mom, Dad and my sister, Jean, lay in Greenlawn Cemetery in Bakersfield. When I left Bakersfield for the last time, I had spent 35 years of my life there!
Anyway, Dad was released on parole in April of 1935, arrived sometime thereafter and a somewhat normal life ensued, though I can't honestly say I remember Dad being around! He was sort-of-like unseen, just a fleeting walk-on in the every-day scenes of our family life. What he was doing during that time is known mostly by photos and vague memories we kids later shared. But one vivid thing stands out: his sudden, catastrophic departure! But I need to provide a little of his post imprisonment history before talking about that.
In keeping with Dad's love of the outdoors and mountainous locations, Dad acquired a used Rockne sedan and clunker Ford and drove them to an iron ore mine he had leased somewhere in the Owens Valley area of California. Most of you, if not all, probably never heard of a Rockne automobile. Well, it so happened the Studebaker auto company named one of their lines of cars after Knute Rockne, the famous coach of Notre Dame football and icon of sports history! Thirty-eight thousand Rockne autos were produced before the line was cancelled and the Great Depression shut down most production of Studebaker and much of the auto industry. They were an inexpensive six-cylinder selling for $585 new!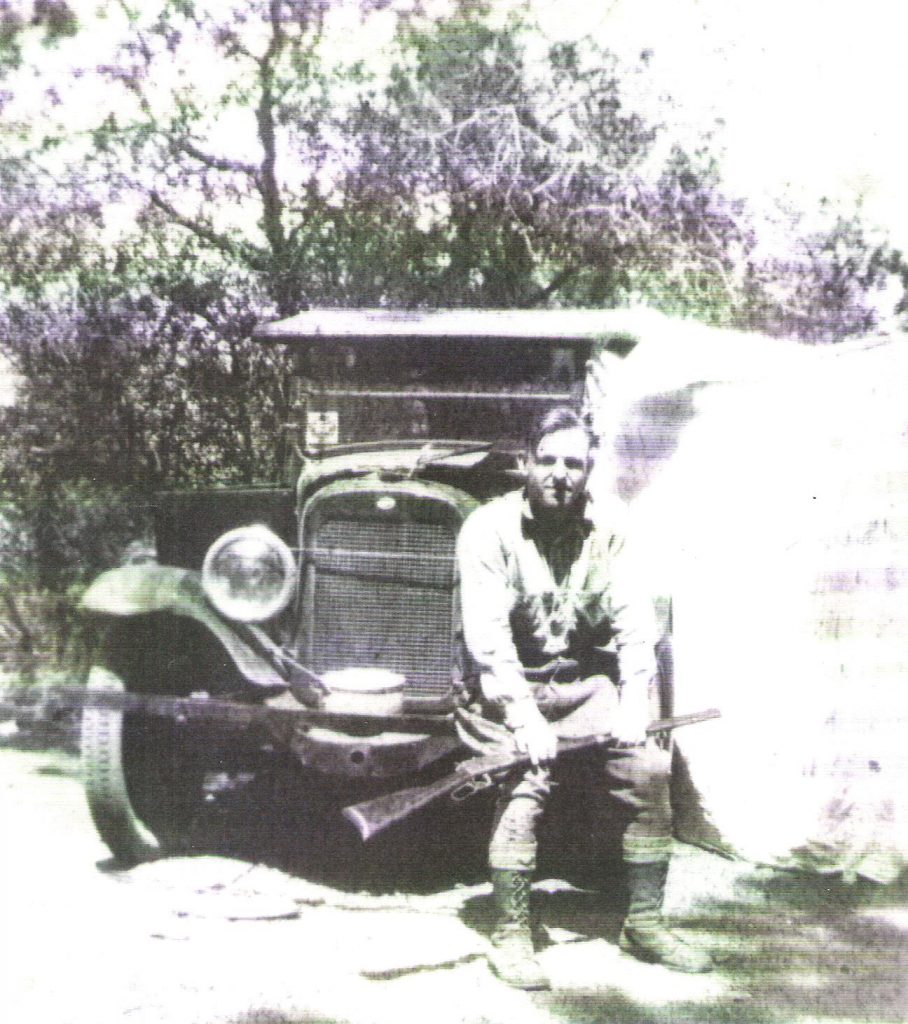 Dad and a friend named Clyde worked the mine alone for an unknown period of time before Dad returned home. Mom had been left behind caring for us kids who were in school at the time, though we visited him at the mine once. A short time after that visit he suffered a serious leg injury and had to return home for treatment and give up his mine lease. Following recouping, he acquired a job as manager of a few gas stations and even ran one of them successfully for several years. But suddenly, on the first of July, 1940, he drove our new DeSoto to a remote place called China Bluff on the outskirts of Bakersfield and committed suicide! Mom was devastated, crushed I should say, and we kids stunned, confused and deprived once again of our father and Mom of her husband. You see, Dad had for one reason or another that we could never determine, embezzled some money from the gas stations' tills and got caught doing it….a repeat performance of his earlier crime! Rather than go back to prison for an extended period of time with no chance of parole again, he chose to end it all, a decision that provided an escape of sorts for him but severely damaged the psychological well-being of us left behind.
The aftermath of Dad's death brought about Grandpa and Grandma Seymour coming to the aid of their besieged and beloved daughter once more. Mom had acquired a good-paying job as a stenographer and bookkeeper for a large trucking company and needed someone to take care of us kids and the household duties while she worked. For a short time we had a nanny but as soon as possible Grandpa Seymour, having retired from the San Francisco Chronicle, and Grandma Seymour were able and willing to move down and take over said duties, thus a way through the rubble of our former family life was found and implemented
I need to say here a few words about Dads's Mom, my Grandma Blanche Pettye (She had remarried after her first husband, Winfield Scott McLaughlin died) First off, she was a grand old lady, full of vim and vigor and always dressed to the hilt! She was rich, rich enough to send my Dad, her only child, to Black Fox Military Institute in a highbrow neighborhood in Hollywood.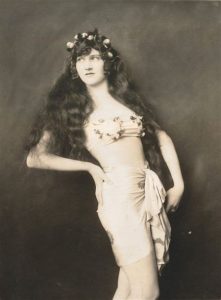 She was one of the original Ziegfeld Girls, a famous group of scantily-clothed, high-living young performing beauties of the late 19th and early 20th century. But that may be more fanciful family lore than unvarnished truth? In any event, as the story goes, she knew well the comings and goings of such beauties, how some came to fame and others not fame but financial success as trophy-wives, escorts or "ladies of the night." And being entrepreneurial, Grandma acquired a fortune of her own after coming West and opening a string of "Cat Houses" dead-center in the oil patch in the southend of the San Joaquin.
As kids, we wondered why her female friends always wore furs and fancy clothes and why so many of these nice-looking young ladies stayed in the hotels we occasionally visited with Grandma in her unknown role as madam. Understand, we didn't find out about Grandma's career, or should I say "enterprise" until we were in our late teens! By then we knew about the birds and the bees and weren't too shocked and found it rather humorous.
Stay tuned for more to come.
Need to catch up with the Ramblings series – here are the links:
#1. https://www.tillamookcountypioneer.net/renderings-and-ramblings-of-an-aged-bohemian/
#2. https://www.tillamookcountypioneer.net/renderings-and-ramblings-of-an-aged-bohemian-stanyan-st-stinkers-take-on-san-francisco/
#3. https://www.tillamookcountypioneer.net/renderings-ramblings-more-about-life-as-a-kid-in-san-francisco/
#4. https://www.tillamookcountypioneer.net/renderings-ramblings-mayday-queen-eucalyptus/