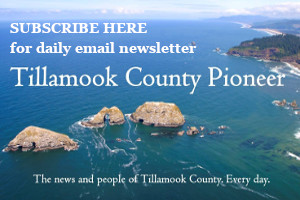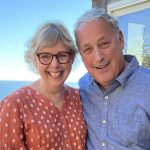 By The Ardent Gourmet
Joe Gallo, aka Crazy Joe Gallo, a mobster of course, was shot to death at Umberto's Clam House in Little Italy, NY in 1972. His poor family bought it too. You would argue that visiting a clam house if you're a mobster is like flying in a small plane if you're a rock star. It won't certainly kill you but the odds aren't healthy.
But your mobster days are behind you long ago and far away and having had some bay clams over pasta at The Salmonberry in Wheeler a few nights back that left you panting with pleasure, you were jonesing for more. Your wife had spoken longingly of kayaking Netarts Bay and it came to you in a flash that you could combine both by booking a clamming trip with Kayak Tillamook County whose vans you'd seen about.
Paddling a kayak is nothing like driving an automobile. It's more like driving an ottermobile. It goes in all directions and its movement, like the medium it inhabits, is often surprisingly fluid. It was possibly the lowest tide of the year, -2.1, and three of you plus Josh, your guide, ottered your way out to an enormous sandbank normally underwater.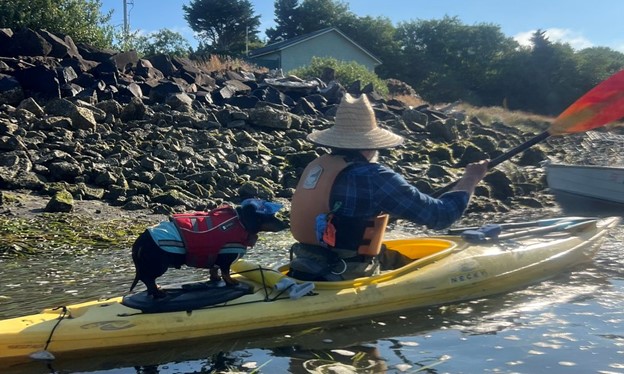 Josh's dachshund, Jetty, wearing a sunhat and lifejacket, stood sea-leg strong behind him. This was a cheap trick. Because you had no choice but to love Jetty which, even if a shark had bitten you, would have made you grade the trip favorably.
Seals you first mistook for driftwood snorted on a bank. You saw herons, lanky, gawky, yet somehow elegant, with a latent hint of Pterodactyl. A strong wingbeat and up they flew with improbable grace. An eagle orbited above. The scent was brine.
Though you're too old an otter for new tricks you still managed to get the hang of digging for the clams.   What fun! There's nothing a child could love more, digging, mud, treasure. Your inner-child loved it.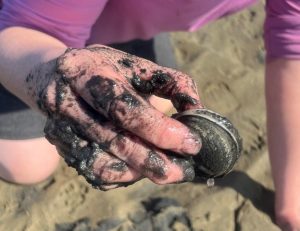 Quickly all of you reached your limit of twenty, you kayaked back, demudded, trekked home.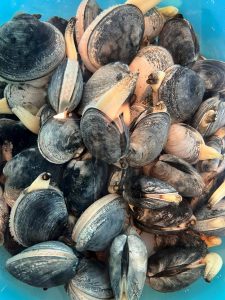 You cleaned the clams in batch after batch of fresh ocean water. Looking down at them in the bucket anyone, even the most zealous PETA member, would have agreed that they were as happy as clams.
You steamed them for ten minutes until they opened, let them cool, removed the meat. You reached for the bucatini, apex pasta, from the upper shelf of your pantry and set it aboil. You heated olive oil. You added twenty cloves of thinly sliced garlic because it was clear to you that a dish like this required a bold stroke. You added red pepper flakes, clam broth, and the clam meat. When the bucatini was almost but not quite done you drained it and added it to the slightly reduced sauce. You tossed.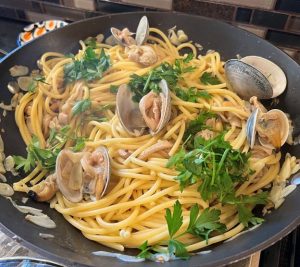 Chopped parsley, a squeeze of lemon, a sprinkle of good parmesan. Bliss.
You had extra clams. You made chowder. Plenitude.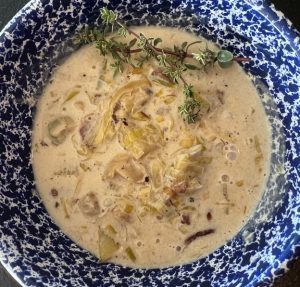 You highly recommend Kayak Tillamook County.  Every aspect of their Netarts kayak clamming tour from registering, to the paddle itself, to the clamming was optimal.
You otter give it a try.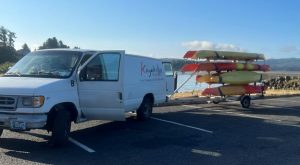 Kayak Tillamook County
The Ardent Gourmet highly recommends Kayak Tillamook County.
Past Ardent Gourmet Tillamook County reviews: https://www.tillamookcountypioneer.net/the-ardent-gourmet-the-schooner-restaurant-review/
Meet The Arden Gourmet Team: https://www.tillamookcountypioneer.net/the-ardent-gourmet-restaurant-hotel-and-travel-reviews-now-on-the-pioneer/
You can see this review and other reviews by the Ardent Gourmet at www.ardentgourmet.com