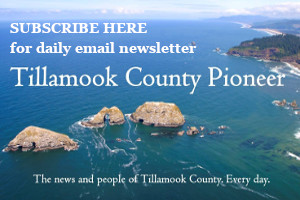 While you are waiting for the turkey to come out of the oven, or if you've already had the turkey and anticipate round #2 … here are some of the happenings throughout the weekend:
Holiday Shopping –
Nov. 23 – PLAID FRIDAY – Three Villages – Manzanita, Nehalem & Wheeler merchants – special shopping opportunities, prizes, raffles and much more! https://www.tillamookcountypioneer.net/three-villages-paint-the-towns-plaid-for-special-holiday-shopping-event-plaid-friday-november-23/
Nov. 23 – Manzanita Holiday Kid's Fair – local nonprofits with crafts and fun activities for kids of all ages, visit with Santa and Mrs. Claus – 5 to 8 pm, with Santa arriving via fire engine about 5:30 pm. https://www.tillamookcountypioneer.net/holiday-kids-fair-in-manzanita-friday-nov-23rd/
Nov. 23 & 24 – North County Recreation District Artisan Fair Fri – 2 to 6 pm; Sat. 10 am – 4 pm
Nov 23, 24 & 25 – Largest 3-day Christmas Bazaar in Tillamook County at Wheeler Treasures from 11 am to 5 pm each day; Santa visits on Saturday Nov. 24th from 3 to 5 pm. https://www.tillamookcountypioneer.net/wp-content/uploads/2018/11/Christmas-Bazaar.png
Nov. 23 & 24 – Rockaway Beach Holiday Gift Fair at Rockaway Civic Center 10 am to 5 pm
Nov. 23 – a very special round-trip, steam-powered, excursion from Garibaldi at 5:30PM to Rockaway Beach for the Lighting of The Christmas Tree. Enjoy free parking in Garibaldi as well as hot cocoa and cookies on the train! The train will depart Rockaway Beach at 7:00PM to return to Garibaldi by 7:30PM. Please visit this link to purchase tickets. See you aboard!
Nov. 23 – Rockaway Beach Tree Lighting & Santa's arrives aboard the Oregon Coast Scenic Railroad at 6 pm; Refreshments and fun, caroling with the Neah-Kah-Nie High School Choir; Canned food donations for the food bank; bring your homemade ornaments to decorate the tree.
Nov. 23 & 24 – Historic Coast Guard Boathouse Open House – Step Back in Time – Noon to 4 pm
Nov. 24 – Garibaldi Crab Pot Tree Lighting, 5:30 pm
Nov. 24 – Small Business Saturday dedicated to supporting small business and keeping it local – downtown Tillamook
Nov. 24 – Downtown Tillamook Artwalk – 3 to 5 pm – Participating downtown businesses and local artists display artwork for this special event. In some locations, there will be demonstrations and artists are available to answer question about their work. See list on website and listed in posts.
Nov. 24 – Join Yo Time and friends this Small Business Saturday for a Gingerbread House Building Competition! Teams of four are invited to register for the competition ahead of time. Each team is asked to bring $10 or a gently used sleeping bag, tent or tarp as an entry fee, which will be donated to CARE to assist folks in need this winter. Basic gingerbread house building supplies will be provided, but teams are encouraged to be creative and welcome to bring their own supplies for personal touches. Teams are asked to arrive at 1pm, and the contest will kick off at 1:15. The building window will last 45 minutes, at which point a winner will be determined by audience applause. Audience participation in the judging is critical, so teams may want to be strategic about inviting their fan bases.
Nov. 24 – Come join us at the newly remodeled Tillamook Creamery for our first-ever annual tree lighting ceremony!
They are kicking off the holiday season with hot cocoa, apple cider, twinkly lights, and of course, Santa!
The tree lighting will take place at 5pm and Mr. Claus will be taking photos and adding to the nice list from 3pm to 7pm. Bring your friends and family to create a new tradition and celebrate the most wonderful time of the year with us here at Tillamook. We ho-ho-hope you can join us!