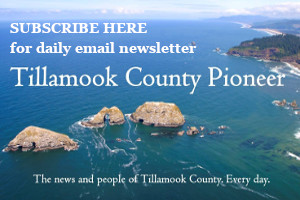 We are proud to produce the 5th Annual Tillamook County Giving Guide, in partnership between Fulcrum Community Resources and the Tillamook County Pioneer and mailed to every address in Tillamook County. If you didn't receive one, you can click on the online version below. Featured on the pages are some of our nearly 100 Tillamook County nonprofits and service organizations. Recognizing that many organizations do not have the budget to pay for a profile, which covers the cost of printing and mailing, at the back of the Guide there is a contact list of most of the nonprofits and organizations in the county. If you don't see your organization/non-profit listed, please contact editor@tillamookcountypioneer.net.
This year's cover is a photo of the "Living Quilt" created by last summer's STEAM school program where Pre-K through 8th grade students explored topics such as endangered and protected species awareness, air and water quality, conservation, community engagement, and responsible stewardship through science, art and the outdoors. A partnership between Nestucca Valley School District, Sitka Center for Art & Ecology, Food Roots, and the Nestucca Valley Disaster and Emergency Preparedness Response units ran this program. The full story can be found at: https://www.tillamookcountypioneer.net/sitka-center-youth-arts-program-summer-workshops-what-we-do-matters-combine-science-art-outdoors-more/
We were especially inspired by their theme "What We Do Matters". Imagining how we might change the world for the better often seems overwhelming and impossible. And imagining that what we are doing in our homes, on our streets and in our communities with our words, deeds and money does really matter, can give us clues as to what we can do, here and now, to make a difference for ourselves, our children, our neighbors and our environment. That may include aiding one of the organizations in this Guide!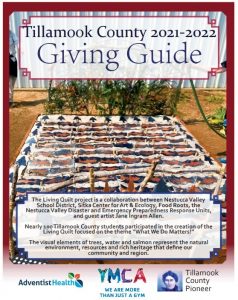 Tillamook County is blessed to have the hard working members of these groups enriching our communities in a myriad ways. Their many missions and services add a deep and rich vitality to all of our lives, weaving strands of health, wellness, equal abilities, sustainability, environmental stewardship, conservation, food security, housing, women's issues, children's well-being, animal welfare, education, and arts and culture, to create a strong and vibrant community. They collaborate and form partnerships as illustrated with the STEAM program, which fosters a culture of efficiency, cooperation and communication. They provide jobs, a trained and inclusive workforce, volunteer opportunities, internships, and training. They give us opportunities to connect, heal and play.
Our goal with this Guide is to give you information and encouragement to support with your dollars and your time, those who give so much to support us. COVID-19 with all its ramifications is still with us, still creating hardship and stress for our organizations who continue to safely provide services and cultural experiences. Your generosity is needed! Thank you to all those who have donated, discovered and volunteered in past years!
And we thank you in advance for your support in the coming year as we continue to weave a beautiful Tillamook County LIVING quilt of Giving!
We welcome your feedback, comments and suggestions by sending an email to: barbaraandchuck@nehalemtel.net. We especially want to hear from you if don't see your favorite group on a page or in the list in the back. Please send contact info to the above email address.
Fulcrum Community Resources Board of Directors
Barbara McLaughlin, President; Lane deMoll, Secretary; Lucy Brook, Treasurer
Sedona Torres, Fae Scott, Julianne Johnson, and Laura Swanson
Fulcrum Community Resources' mission is to foster the transition of the Nehalem Bay community to a sustainable future. Our volunteer group initiates and coordinates local programs in north Tillamook County. We also sponsor others' projects that fit with our mission and goals. We see Fulcrum, not as a hub, but as an enabling node – one of many groups locally who are organizing and creating projects. Our guiding philosophy is that the most effective and innovative projects are initiated at the grassroots community level. www.fulcrumresources.org