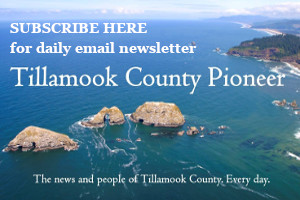 By Laura Swanson
Yesterday evening, August 17th, Natasha Lackey, director of Tillamook County Animal Aid and volunteer foster caretakers, Lacey and Chris Dayton watched the driveway at Tillamook County Animal Aid anticipating the arrival of Holly's original family. See this link for Holly's story.
The short version is that Holly was found in Tillamook about two weeks ago, not far from TCAA's shelter, a stray with an extremely tight collar, as Natasha points out you can still see the marks. A brief visit to the shelter and a scan for a micro-chip provides an almost immediate link to Holly's family in Washington. Holly was stolen from this family two years ago and somehow, in a series of unknown events, ended up in Tillamook.
Astonishment and disbelief, and then amazing joy, and plans were made for the Washington family, expected to arrive at TCAA Friday August 17th. As they drove in and stretched after their long drive, Holly wagged her tail in recognition, especially for the other family member, Buster. This was definitely her family and all were overjoyed. "She's so much bigger," they commented. So is the little girl that picked her out of the shelter. The hugs and play – the family reunion photos, and then everyone loaded up and heading out for a weekend of family fun – reunited, and it feels so good!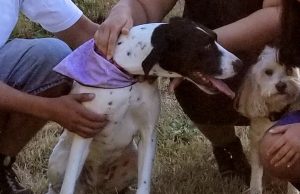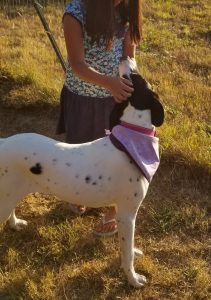 Holly's happy ending and return to her family was possible because of her microchip and the family's registration. You might think that it won't happen to you — you won't "lose" your dog. But the unforeseen CAN occur, you might find yourself separated from your dearly beloved canine or feline companion and that tiny microchip will allow this kind of happy reunion, even after two years.
Lesson #1. MICROCHIP YOUR PETS.
And lesson #2 is the other part of the story – if you find a "lost" animal, don't make assumptions about what happened. Take the animal to a vet or nearby animal shelter to be scanned for a microchip. "Some people jump to conclusions about animals being abandoned, or running away for a reason, but more likely there is a worried-sick pet owner trying to find that lost pet," explained Natasha. "Recently I had someone report a lost animal that decided while on the phone with me that they were just going to keep it. That's just wrong. We have a moral obligation to reunite the pet with their family or at the very least determine it's circumstances, and we hold animals for 30 days to do that."
There are often circumstances when the shelter has to take in pets, and such is the case with TCAA's current residents. All the excitement outside got the new dogs excited as well, "We just took in five large unsocialized dogs who have never seen a vet, all underweight. It will be a rough road for a while," said Natasha. It's never-ending, the animals that need aid. But with the support of the community and then there are special volunteers like Tayla Schneider. "For my birthday this year, I'm asking for donations to Tillamook County Animal Aid Inc. I've chosen this nonprofit because their mission means a lot to me, and I hope you'll consider contributing as a way to celebrate with me. Every little bit will help me reach my goal," says Tayla's Facebook donation request. Go to this link to donate for Tayla's birthday "Miss Talya, one of our youth volunteers, is taking it upon herself to seek out funding for the dogs at TCAA. The dogs she helps us love. Her energy and spirit are invaluable and we are grateful for her," said Natasha.
"Show her you're on her side and donate even a few dollars towards a cause she cares about. Supporting our YOUTH means supporting the FUTURE! This gal has picked the perfect time to stand up and help." Stay tuned for the story on these dogs, and more about the amazing work at Tillamook County Animal Aid. To find out more, go to www.tcanimalaid.org.