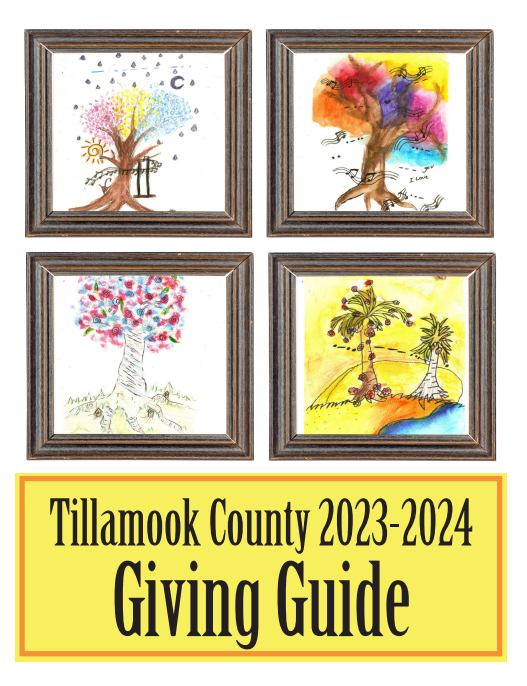 By Charles McLaughlin
I need to back up a little bit to complete my story concerning Grandma Pettye. The last time I saw or spoke to her was in 1945 while she was on a tour around the country in her Studebaker driven by her husband, George. They stopped by to see me in Jacksonville, Florida where I was stationed at the (NATS) Naval Air Base. Grandma came on base alone and during our short visit she surprisingly said she had a premonition she would not survie her trip! She chose not to elaborate and soon left. Two days later in Hopkinsville, Kentucky she lay dying of injuries sustained during an automobile collision. I was not notified of her injuries or subsequent death there until my brother contacted me by phone two weeks later. Unfortunately, I was not allowed to take leave to attend her funeral. I must mention, too, that Harold and Jeane, my brother and sister, have both passed from this planet and are sorely missed by their children, grandchildren and surviving sibling. Grandpa and Grandma Seymour, too, have passed and I'm the only one left of that line to mourn. There were good times and bad times, much more good than bad, and what bound us all together through the thick and the thin was love.
Well, it's time to wrap up this series of renderings and ramblings, so I'll finish with a somewhat lengthy story I hope you find interesting historically as well as humorous.
Between the year `my third grade class photo at Franklin School was taken in 1937 and present day, I married three times and fathered 7 marvelous sons, plus helped rear a beautiful step-daughter. My first wife, Joan, was the granddaughter of Jesse Hall, Sr., owner of the Weatherford Oil Tool Company situated in the country town of Weatherford, Texas. Jesse, the patriarch of the family, and his wife Rhoda (called Dota by her grandkids) lived there on South Lamar Street on top of a hill in a fantastic Lady Queen Ann Victorian mansion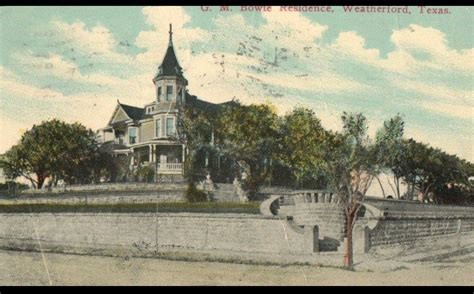 built in 1897. It had 7 bedrooms, a large ballroom upstairs with gambling wings, formal living and dining room and large, fully tiled kitchen, a wrap-around porch and a swimming pool, as well as many other amenities. Well, Jesse and Rhoda's ascent to the mansion began in a boxcar. Yep, you heard me right! Jessie and Rhoda were the epitome of dirt poor and actually lived in a boxcar in Mc Farland, California in the southern San Joaquin Valley. Fortunately, Jesse was a driller in the oil patch, had a brain as well as brawn and was busy figuring out how to stop "blowouts" from occurring in the oil patch. In other words, how to stop oil from blowing out of the drill hole surrounding the pipe it was supposed to flow into. And sure enough, Jesse came up with the solution: the spiral centralizer! It is a tool that is clamped onto the pipe that holds the pipe in the center of the drill hole, prevents the pipe from slipping into crevasses, assures a good bond of cement forms around the pipe and thereby prevents blowouts.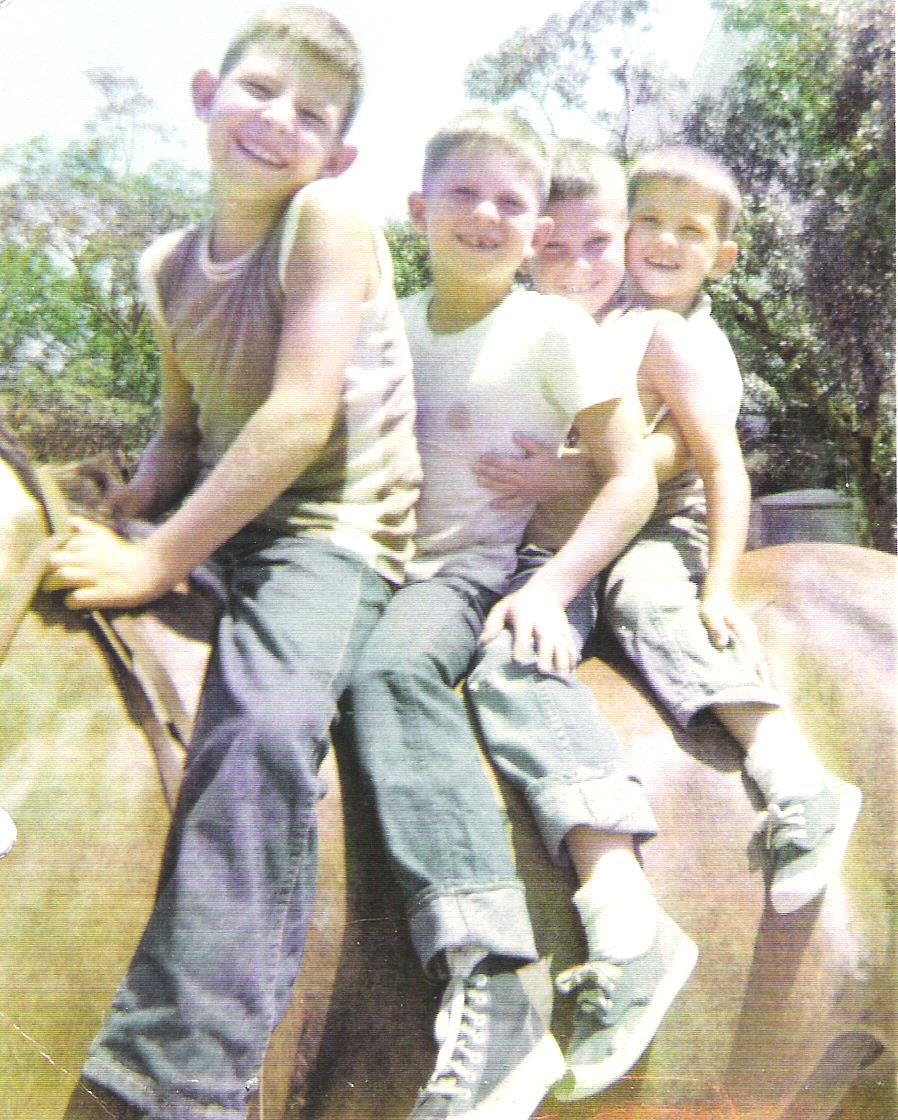 Now Jesse had no money to patent his invention nor to travel anywhere to sell his new gadget. But he managed to borrow some money from a potato farmer he was related to, patented his centralizer, flew to Barranquilla, Columbia and sold a fortunes' worth of centralizers!! Jesse, Rhoda and their four sons, George, Elmer, John and Jesse, Jr. became millionaires almost overnight! Yeah, that's a good rags-to-riches story but there's more to it!
There was a famous actress who briefly lived in Weatherford: Mary Martin of Broadway fame and star of "Peter Pan," "South Pacific" and "Sound of Music." While there she married a lawyer named Ben Hagman and they had a son named Larry Hagman, you know, the guy who became famous in his own right by starring in the TV series "I Dream of Jeannie" and "Dallas." As it were, Larry Hagman was a friend of Larry Hall, brother of my then wife, Joan Hall. As a result, we got to know Hagman before he became famous. And here's the punch line: According to family lore, "Dallas" was based on the lives of the Hall family, altered just enough to avoid any legal problems!
Still more to the story, folks!
Years later I was visiting with Larry Hall in Hollywood where he lived and worked as a bit-part actor (Pink Panther) and he told me of plans to meet up with Hagman at his home in Malibu and wondered whether I wanted to come along. I hadn't seen Hagman for more than a decade and asked Larry to call him to see whether it was ok. He called and Hagman graciously invited me and so off we went to his home. Arriving there, we walked through his garage, faintly scented with an enticing aroma , into his backyard and there he was sitting in the stage prop geni-bottle used when filming "I Dream of Jeannie!" After the usual "How have you been's," Hagman showed us his collection of La Croix Wheat Straws and accompanying Mary Jane. A while later, Maj, his wife, came out with food and, overwhelmed by the munchies, we all sat down in the geni-bottle and had lunch together. I must say, that was a high time in Malibu!
"That's All, Folks!"
Need to catch up with the Ramblings series – here are the links:
#1. https://www.tillamookcountypioneer.net/renderings-and-ramblings-of-an-aged-bohemian/
#2. https://www.tillamookcountypioneer.net/renderings-and-ramblings-of-an-aged-bohemian-stanyan-st-stinkers-take-on-san-francisco/
#3. https://www.tillamookcountypioneer.net/renderings-ramblings-more-about-life-as-a-kid-in-san-francisco/
#4. https://www.tillamookcountypioneer.net/renderings-ramblings-mayday-queen-eucalyptus/
#5. https://www.tillamookcountypioneer.net/renderings-ramblings-a-30-30-rifle-and-ziegfeld-girl/
#6. https://www.tillamookcountypioneer.net/renderings-ramblings-school-in-b-town/
#7. https://www.tillamookcountypioneer.net/renderings-ramblings-technology-and-grandma-seymours-cooking/
#8. https://www.tillamookcountypioneer.net/renderings-ramblings-schoolboy-shenigans/
#9 https://www.tillamookcountypioneer.net/renderings-ramblings-getting-to-know-the-mclaughlins-meet-chucks-siblings/
#10 https://www.tillamookcountypioneer.net/renderings-ramblings-war-stories-mysteries-more/